Torero Athletics: Sabbatini Shines in Softball's WCC Opening Series; Roundup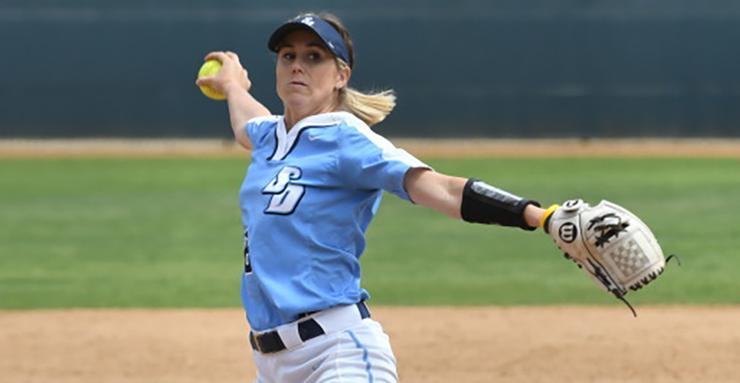 Senior pitcher Megan Sabbatini struck out 11 and scattered eight hits in 11 innings of work to lead the University of San Diego softball team to 4-3, 11-inning victory in game one of an April 8 doubleheader against visiting West Coast Conference foe Pacific at the USD Softball Complex.
Although the Toreros lost, 8-2, in game two later Saturday, Sabbatini returned to the circle on Sunday and pitched a seven-inning complete game with six strikeouts as USD took the weekend series with an 8-3 triumph.
Sabbatini, who had a 1.56 earned-run average over the 18 innings of work, was rewarded by being named WCC Pitcher of the Week. In her two wins, the Torero offense recorded 25 of its 31 hits over the weekend, led by Taylor Spence and Olivia Sandusky, who had six and five hits, respectively in the three-game series.
USD (16-16 overall, 2-1 WCC) return to action Friday with a 3 p.m. game at Saint Mary's. The teams complete the WCC series Saturday with a doubleheader beginning at noon. The Toreros return home April 22-23 for three games against Santa Clara.
Baseball: Up and Down Week for Toreros
The Toreros baseball team began the week with a split of its midweek games, a 13-2 road loss to Cal State Fullerton on April 4 and then a 7-2 win at Fowler Park against New Mexico on April 5.
But USD lost its first WCC series, losing two of three games over the weekend at Gonzaga. Friday's loss was 9-2, Saturday's defeat was 3-0, but on Sunday, the Toreros garnered a 4-1 win.
A 2-3 week for USD contributed to their D1baseball.com ranking slide from No. 19 to 25th. One consistent spark for the Toreros all week was Hunter Mercado-Hood as he was named the Rawlings WCC Player of the Week. The senior rightfielder hit .579 (11 for 19) with two home runs, two doubles, a triple and four RBI. He had a hit in all five games and currently has a 13-game hitting streak.
USD plays a 6 p.m. nonconference game today against UC Riverside. The Toreros (21-9, 9-3 WCC) will host Pacific in a three-game series at Fowler Park starting Thursday at 6 p.m. Friday's game is at 6 p.m. and Saturday's series finale is at 1 p.m.
Baseball Team to Fulfill Wish for Teen with Hodgkins Lymphoma
One special aspect to this coming Saturday's 1 p.m. game between USD and Pacific will be the completion of a wish granted to Jake, a 17-year-old from Lemon Grove, Calif., who has been diagnosed with Hodgkins Lymphoma. As a subset of a wish that was granted to Jake — his wish was for he and his family to visit Costa Rica through the Make-A-Wish Foundation — USD Coach Rich Hill learned that Jake also loves baseball. He promised Jake an opportunity to throw out the game's first pitch at an upcoming game. On Saturday, Hill's promise and Jake's opportunity will be realized at Fowler Park.
Women's Tennis: Team Splits WCC Road Matches
The women's tennis team powered its way to a 4-0 shutout road win against West Coast Conference foe, Pacific, on April 7, continuing a great start to their conference schedule so far. Twenty-four 24 hours later, though, due to weather issues, USD lost 4-2 at Saint Mary's in a WCC match that marked the second straight day that USD did not play doubles matches.
Due to inclement weather, the match in Stockton, Calif., began with singles play and that's all USD needed to win. Daniela Morales, Columba DiFilippo, Maria-Paula Torres and Sophia Chow each recorded a victory.
At Moraga, Calif., USD suffered its first WCC blemish on its season record. Nicole Anderson and Torres won their respective matches at No. 1 and No. 5 singles for USD's two points against the Broncos.
The loss sent USD's record to 8-10 overall, 4-1 in conference. The team will host two WCC matches this week, Thursday at 11 a.m. against Loyola Marymount and 2 p.m. Saturday against Pepperdine.
Men's Tennis: Team Blanks Pacific, Preps for WCC Road Matches
The men's tennis team shut out visiting Pacific, 4-0, in West Coast Conference action on April 8 at the Skip and Cindy Hogan Tennis Center.
The Toreros earned the doubles point by going the full distance after Pacific won at No. 2 doubles. Filip Vittek and Joshua Page won at No. 1 doubles and USD's No. 3 team of Guus Koevermans and Pratt Keerasuntonpong clinched the point.
In singles play, Vittek, Page and Joel Gamerov won to complete the shutout and improve USD's record to 11-8 overall and 3-2 in WCC play.
The Toreros are on the road this Thursday and Saturday with WCC matches at Los Angeles' Loyola Marymount and Malibu's Pepperdine, respectively. Both matches start at 2 p.m.
Sports in Brief: Rowing, Track, Golf Teams Prep for Competitions
Men's crew returns to the water for its first competitive action since the San Diego Crew Classic when it vies in the Stanford Invitational April 14-15 at Redwood Shores, Calif. … The women's rowing team will be practicing in preparation for two meets at the end of April. Some will compete in the Dale Cup in Bloomington, Ind., and most will be at the WIRA Championships at Gold River, Calif. (Sacramento State Aquatic Center) April 29-30. … Distance runners for the women's track program will compete in a pair of meets this week, with some vying in the Bryan Clay Invitational on April 13-14 in Azusa, Calif., and others at the Mt. San Antonio College Relays April 13-14 at El Camino College in Torrance … The men's golf team returns to action April 20-22 when they'll compete in the West Coast Conference Championships at Riverside Country Club in Provo, Utah.
For all USD Athletics news, scores and information, visit the website and follow USD Athletics on its social media platforms: Facebook, Twitter and Instagram.