Torero Athletics: Baseball Goes 4-0, Now Ranked 19th in Nation; Roundup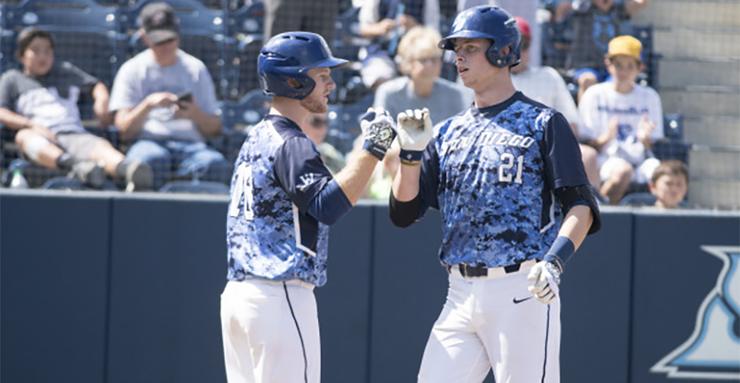 The University of San Diego baseball team went 4-0 last week, starting with a midweek blowout of UC Riverside, 10-2, on March 28 and then attaining a three-game West Coast Conference sweep against the University of San Francisco March 31-April 2 at Fowler Park.
The Toreros' offense had a great week. Jay Schuyler (13 for 17 combined against UCR and San Francisco) and Roman Garcia (three-run homer to win Friday's game) as well as standout performances by Bhret Bewley (3 for 4, homer, 4 RBI on Sunday), Riley Adams (two-run homer Sunday), Hunter Mercado-Hood (two hits, two RBI Saturday and was 2 for 3 with a homer and three RBI against UCR).
Pitching wise, the Toreros' starters had weekend. Nick Sprengel went 6.1 innings but scattered nine hits and gave up four runs (two earned), Chris Murphy only went 4.2 innings Saturday and Paul Richan went 6.2 innings and struck out seven. Richan was the only starter to record a victory among the three starters.
The results on the field, where USD is 19-6, 8-1 in WCC play, have helped the team's ranking in the latest D1Baseball.com poll. On Monday, the Toreros moved up four spots to No. 19 in their poll and Collegiate Baseball has USD at No. 20 in its Top 30 poll.
The Toreros' focus will be back on the field when they'll play a road game at Cal State Fullerton tonight at 6, host a 6 p.m. game Wednesday against New Mexico and then a weekend series at Gonzaga. Game times are 6 p.m. Friday, 3 p.m. Saturday and noon on Sunday.
Softball: Toreros Open WCC Play at Home This Weekend
The USD softball team is gearing up for the opening weekend of West Coast Conference play as it'll host Pacific in a three-game series on Saturday (two games, 12 and 2 p.m.) and Sunday (noon).
The team had one final nonconference tune-up game on March 29 and it was a two-hit, complete-game shutout, 3-0, for senior pitcher Megan Sabbatini against UC Riverside at USD's Softball Complex. She had a no-hitter into the sixth inning before allowing a two-out double.
USD's runs were scored on RBI singles by Olivia Sandusky and Lauren Kane in the third inning and a fourth-inning fielder's choice by Sara Silveyra to score Lindsay Clare, who had singled.
Men, Women's Rowing: Toreros Compete Well at SD Crew Classic
The 44th San Diego Crew Classic took place April 1-2 at Mission Bay in San Diego and the experience was, as usual, an important test for both USD teams.
The women's rowing team competed in four races -- varsity eight, second varsity eight, varsity four and an open eight -- and competed well across the board. The highlight was a Sunday win in the second varsity eight's Petite Final. USD bested British Columbia, San Diego State, Sacramento State, Loyola Marymount and Saint Mary's in a time of 6 minutes, 59 seconds. In the varsity eight, USD was second in the Petite Final, losing by two seconds to University of Victoria in 6:38. The varsity four qualified for the Grand Final and finished fifth against a packed, ranked field consisting of No. 6 Texas, No. 12 Wisconsin, No. 13 USC, No. 15 Washington State and UCLA. USD's time was 7:44. In the open final, USD was fourth in 7:04.
On the men's rowing side, it was the chance for the varsity eight to compete against Santa Clara, British Columbia, UC San Diego, Notre Dame, Grand Valley, UC Davis and Orange Coast College in the Grand Final. USD took fifth in a time of 6:07. In the second varsity eight race and against a field consisting of UC Santa Barbara, UCSD, Notre Dame, OCC and UCLA, the Toreros were third in 6:17. In the open final, USD finished seventh in 6:39.
Next up for the women's rowing team is April 29 at the Dale Cup in Bloomington, Indiana as well as the April 29-30 WIRA Championship meet in Sacramento. The men's team, meanwhile, returns to action April 14 at the Stanford Invitational.
Men's Tennis: USD Splits Two WCC Road Matches
The men's tennis team recorded two West Coast Conference matches by a 4-1 score on March 31 and April 1. In the first match, USD defeated host Gonzaga. In the second match, the Toreros fell at Portland.
Against Gonzaga, USD won the doubles point on solid wins at No. 1 doubles (Filip Vittek/Joshua Page) and No. 2 doubles (Guus Koevermans/Alexandros Araouzos). Then, in singles, Araouzos, Koevermans and Joel Gamerov each won to clinch the match. Page lost his singles match to give the Bulldogs their lone point.
Against Portland, USD again won the doubles point as Vittek and Page triumphed and so did Gamerov and Gui Osorio. But Portland's singles game was too strong. The Pilots' players defeated Vittek, Page, Araouzos and Osorio to earn the win.
USD is now 2-2 in WCC play, 10-8 overall. The Toreros host Pacific in WCC action at 1 p.m. Saturday at the Skip and Cindy Hogan Tennis Center located behind Mother Rosalie Hill Hall (SOLES).
Women's Tennis: A Pair of WCC Wins for USD
The women's tennis team improved to 3-0 in West Coast Conference play by winning a pair of road matches against Gonzaga on March 30 and then Portland on April 2.
The 4-1 win over Gonzaga was especially sweet as USD handed the Bulldogs only their second loss of the season in 13 matches. USD won the doubles point on the strength of wins at No. 1 doubles (Colomba DiFilippo/Daniela Morales) and No. 3 (Maria-Paula Torres/Sophia Chow). In singles, USD winners were Morales, Gemma Garcia and DiFilippo. The lone point allowed was a loss at No. 1 singles by Nicole Anderson.
A 4-0 win at Portland was again led by a doubles point win. Torres/Chow won, as did Garcia and Jessica Regehr. The singles winners for USD to close out the match were DiFilippo, Morales and Garcia.
The Toreros (7-9 overall) now travel to Stockton to face Pacific at 1:30 p.m. Friday.
Golf: USD Finishes 14th at Oregon Tournament
The men's golf team finished 14th place in the University of Oregon-hosted Duck Invitational March 27-28 in its last event prior to the upcoming West Coast Conference Championship.
The Toreros finished with a 900 score for three rounds, finishing ahead of only WCC foe Gonzaga in the team standings. Oregon won the tournament with an 844. Top golfers for USD were Daniel Lopez, who was tied for 29th place with a 221 (72-76-73). Dalton Hankamer was tied for 37th at 222 (75-68-78) on the Eugene Golf Club course.
The WCC Championship event takes place April 20-22 at Riverside Country Club in Provo, Utah.
Women's Track: Impressive Distance Running Times in Meet
The USD women's track team had several standout individual efforts in a weekend meet, this time in the 5,000 and 1,500 events at the April 2 California Collegiate Invitational at UC San Diego.
Freshman Hope McClaughlin finished third in the 5,000 run with a time of 18 minutes, 00.37 seconds. In the 1,500 run, seniors Andrea Hughes and Sarah Kapple were fourth and fifth, respectively. Hughes finished in 4:32.85 and Kapple ran in 4:33.33.
Kapple also finished 12th in the 800, finishing in 2:15.26.
The Toreros' next meet is April 13-14 at the Bryan Clay Invitational at Azusa Pacific University.
For all USD Athletics news, scores and information, visit the website and follow it all on USD Athletics' social media platforms: Facebook, Twitter and Instagram.