March 17 Deadline to Apply for USD President for a Day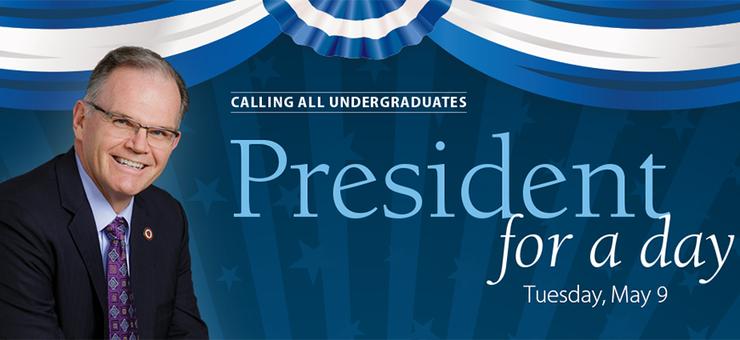 What would you do if you were the president of your university? What would be something you'd like to know about the job? What would you like to make happen within the campus community? How would you best connect the university to the community beyond campus?
There's lots of things that come to mind when you're the president. And on Tuesday, May 9, if you are an undergraduate student at the University of San Diego, your chance to switch places with Dr. James T. Harris III for one day will arrive. Just apply by the deadline, Friday, March 17, and you could be selected USD's second-ever President for a Day.
Imagine being President for a Day while Dr. Harris switches places with you. His part of the agreement is to attend your classes (but not take tests!), fulfill your work requirements, participate in extracurricular activities and attend student group meetings.
Last spring, accountancy and theology and religious studies double major Will Tate was the first-ever USD President for a Day winner.
Presidential perks for the winning student include parking in Dr. Harris' parking spot, managing the president's staff, making an executive decision and when you apply, you can choose a charity and USD will donate $1,000 on your behalf.
Sounds good, right? If so, apply now.