Women's Herstory Month: Kroc IPJ, Women's Center, HERO Club Host Events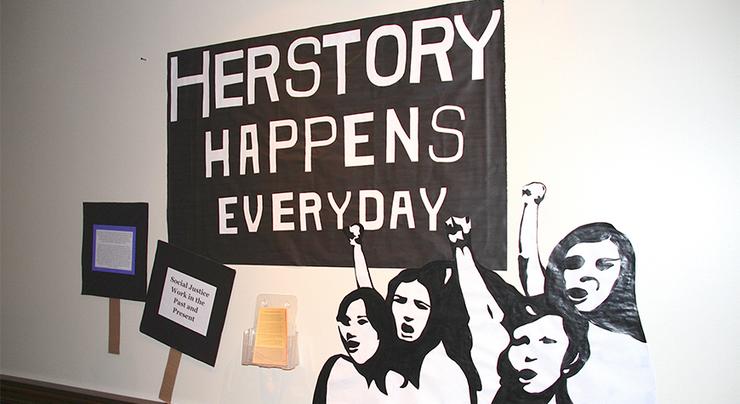 The University of San Diego's Women's Center and other campus organization are honoring the national celebration of Women's History Month this month with events, exhibits, experiences, discussions and even a donation drive to assist homeless women.
"Amplifying women's voices and the experiences of women is more important than ever," said Women's Center Director Erin Lovette-Colyer.
Student leaders in the Women's Center have named their 2017 theme, "Womxn Herstory Month — We are Here: Community at the Intersections."
Separately, on Wednesday, March 8 from 6 to 8 p.m., the U.N. Association of San Diego, in partnership with USD's Joan B. Kroc Institute for Peace and Justice and Women's Empowerment International, are celebrating International Women's Day. All are invited to attend a free, interactive panel discussion in the KIPJ Theatre titled, "Women and Poverty: Exploring Solutions for Equality and Social Change."
On March 16, a Women's Center program, "Mujer Mariposa," will take place from 6-8 p.m. within the Hahn University Center Exhibit Hall (across from the Torero Store). Programming includes a documentary screening about migrant and refugee womxn, followed by a writing and theatre workshop facilitated by artist Diana Cervera. Dinner will be provided.
While there, be sure to check out a collaborative community exhibit led by students. Among the display will be photos and quotes from women across campus who've answered the question, "What does it mean to you to be a woman at USD?" The exhibit will be on display throughout the month.
On March 17 from 12:30-1:30 p.m. in SLP Room 420 (Women's Center space), the weekly Women Center's Nothing Bundt Feminism gathering is a chance to build community, have conversation and to enjoy Bundt cake. Among the questions for discussion is "What does it mean to (really) trust womxn in 2017?"
On March 19, the USD HERO (Honor, Empower, Remember, Overcome) Club, a student organization on campus raising awareness for student veterans and service members killed in action (KIA), will be doing a collaborative, high-intensity workout with the Foundation for Women Warriors. All participants meet at Manchester Field (behind Fowler Park). Foundation Director and current USD graduate student, Jodie Grenier, will be in attendance. The day's workout will honor Marine Major Megan McClung, who was the first female Marine officer KIA during the Iraq War.
The Women's Center will host two more events, March 22 and March 23. "Crafting Our Community" will take place March 22 from 5:30-7:30 p.m. in UC Room 128. This is a womxn of color art expression gathering with discussion and creativity in full effect. Crafts and snacks will be provided.
On March 23, the monthly Beyond the Classroom will be co-hosted by the United Front Multicultural Center and the Women's Center. The discussion topics are feminism and politics with Visiting Department of Political Science and International Relations Professor Dr. Karen Shelby and Ethnic Studies Assistant Professor Dr. Josen Diaz. Lunch is provided. This event takes place from 12:30 to 1:30 p.m. in SLP 418 (UFMC).
Throughout March, the campus community is encouraged to stop by the Women's Center or the Student Life Pavilion Info Desk to donate individually wrapped or packaged tampons, liners and pads, which all will be donated to the Alpha Project to support the period needs of homeless women.
— Ryan T. Blystone