Spring Break Education, Adventure Awaits USD Students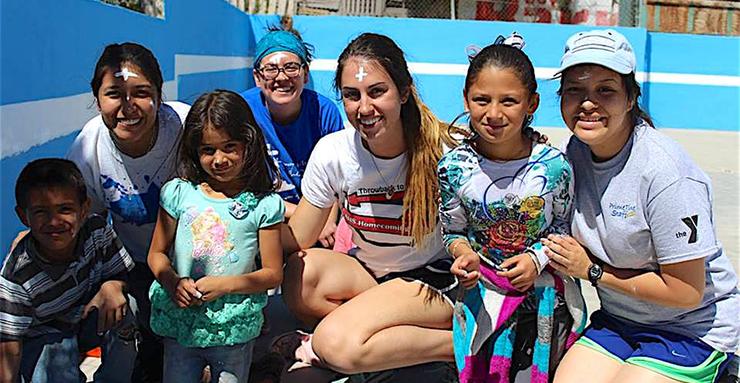 The traditional spring break week at the University of San Diego, happening March 6-10, gives all students a well-deserved break. But for some students, time away from the classroom just means they shift into a week's worth of experiential learning in places such as Colombia, Tijuana, Havasu Falls and locally in San Diego.
"Peacebuilding is not just an academic field of study; it is learning about the difficult work of building human relationships after violent conflict in societies where the social fabric has been torn apart," said Necla Tschirgi, professor of practice, human security and peacebuilding advisor for the Joan B. Kroc School of Peace Studies master's program.
From March 4-11, Tschirgi, two Kroc School staff members and 16 graduate students from her Post-Conflict Peacebuilding (PJS 593-02) will be in Colombia to examine in-person the recent peace agreement between the Colombian government of President Juan Manuel Santos and the Revolutionary Armed Forces of Colombia.
"While peacemaking requires the buy-in of the parties to a conflict, peacebuilding depends on the sustained efforts of myriad actors-politicians, policy makers, grassroots organizations, religious leaders, business groups, and civil society organizations," Tschirgi said. "Understanding these efforts in their unique context is an invaluable experience for students — enriching their classroom learning and inspiring them to become peacebuilders themselves."
The Colombia trip is a first for Tschirgi to take master's students abroad in this course. Students will be keeping a journal and writing a blog about their trip.
"The Kroc School is committed to preparing students who can combine theory and practice to become agents of change in their own environments," Tschirgi said. "Field-based courses allow students to apply classroom learning to real-world problems and integrate their field-based experiences to become self-reflective learners and practitioners."
Tijuana Spring Breakthrough
The annual University Ministry Tijuana Spring Breakthrough trip, led by Resident Minister Julia Campagna and student leaders Grace Avery, Jack Turney, Clarissa Reyes, Megan Siroky and Tanya Ibrahim from March 3-9, gives 22 first-time students a full immersion experience.
Students will be at Casa del Migrante, a men's shelter for migrant men, at Las Memorias, a home for people living with HIV/AIDS, Mass at Real San Francisco, visit the San Eugenio parish where they'll spend time at the community center, clinic and school for children with special needs; visit Playas, where the border meets the Pacific Ocean, to discuss immigration; and students will have a two-night stay with host families. Daily reflections close each night. On Thursday, upon returning to San Diego, the closing reflection will be at Chicano Park.
"It is awesome to see students risk — to enter into spaces and conversations that may shatter their understanding of boundaries, of belonging, of who they are in the world, of where God is working, and of how the world works," Campagna said. "While growing together as a community, they ask incredibly challenging and profoundly important questions. In Tijuana, we are recipients of incredible hospitality and are invited to accompany communities in many different and fun ways. it is a privilege to enter into relationships that are in some ways radical by their very nature, but in most ways incredible human. We share meals together, pray together and laugh together. Some days, we also cry together."
"Our student leaders ask the USD community traveling to Tijuana to enter into the experience with open hearts and open minds, and to live simply for a week," she continued. "That simplicity allows students to enter into relationship even more fully, and dig deeper, to reflect on what they are experiencing each day and understand how they might respond and bring this experience back with them to campus."
Outdoor Adventures Trip to Havasu Falls
Twenty students will join USD Outdoor Adventures Program Manager Mark Ceder and OA Program Coordinator Kelly Sloan for a spring break trip to Havasu Falls in Supai, Ariz., from March 4-11.
The group will drive to Mojave National Preserve to camp the first night, then to Havasupai Canyon and backpack to the Supai campground for three nights. They'll then go to the Arizona Hot Springs to relax and recover on the bank of the Colorado River before returning to San Diego.
"In addition to visiting the mind-blowing water falls, we are focusing this trip on environmental justice and water," Ceder said. "There is a desire to reopen the Canyon Uranium Mine, which is a threat to clean water for the Havasupai people. We will examine the public land debate and learn about the various land managers and competing priorities."
San Diego Social Justice Experience
The United Front Multicultural Center, Black Student Resource Center and USD's Residential Life are hosting the third annual San Diego Spring Break Social Justice Experience. The three-day event, March 6-8, is open to all students interested in learning about and those looking for opportunities to further their understanding of social justice.
Students, following a welcome and icebreakers, will visit HOPE Worldwide and YALLA San Diego and have a group reflection on Monday. Tuesday's schedule consists of visits to the Barrio Logan College Institute, LGBT Center, a meeting with Irene Castruita about food justice, the UCSD Alternative Tour and a group reflection. Wednesday, the final day, includes a special activity in the morning, lunch at USD's La Gran Terraza, an ARTivism session and a closing group reflection.
The goal of this experience, according to organizers, is for participants to "engage in dialogue to explore issues of the social justice umbrella with the San Diego community." The group will "reflect on the interconnection of social justice issues and how each person can be an ally and change agent."
Adan Sanchez, a USD alumnus and UFMC associate director, said some of his highlights will be the local organization visits to Barrio Logan College Institute, YALLA, and HOPE Worldwide.
"In addition to doing amazing work, they each have a USD connection by having USD alumni, former USD employees on staff and/or they are new USD partnerships," he said.
— Ryan T. Blystone
Photos courtesy of Ashley Barton (photo on USD News Center website) and University Ministry (above).