A Community of USD's Brightest Students Reside in the Honors Program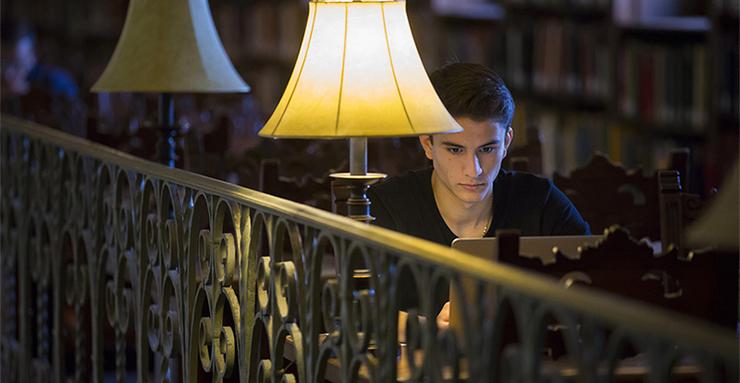 The first day of a new semester brings with it the promise of new friends, new knowledge and new adventures. For the students who enter the University of San Diego by way of its Honors Program, all of those things are found in one place: Illuminate.
Illuminate, the Living Learning Community (LLC) for Honors students, is a hub of friendship, study sessions and late-night laughter. The Honors Program is one of eight LLCs at USD. Each first-year student is assigned to an LLC and students in each cluster live near one another and enter a world where academics meld with exciting extracurricular activities and community engagement. Built around themes such as social justice or sustainability, each LLC provides a ripe environment for you and your peers to ponder differing perspectives and galvanize into action.
Although each student experiences the enrichment of LLC living, Illuminate is unique — it doesn't end after one year. Instead, it is designed to create a community for the university's brightest students throughout their undergraduate experience.
"They rank what their best experience is and 'community' has steadily risen, along with interaction with Honors peers and faculty," says Erin Prickett, USD Honors Program coordinator and adjunct faculty member in the Communication Studies Department.
The Honors Program, started in 1979 by USD's College of Arts and Sciences, consists of students who partake in a variety of exclusive activities throughout the course of their time at USD. From tea with USD's President to business ventures like designing postcards to sell in the campus bookstore or meet and greets with industry experts and brown bag lunches with Honors Programs alumni — including former San Diego Mayor Todd Gloria — the opportunities for enrichment are endless.
One of the most anticipated aspects of the program is team-taught interdisciplinary classes that are exclusively for Honors students. Last semester, one of the options was "Disparities in Healthcare," taught by an Ethics professor and another from USD's Ethnic Studies Department. These classes have a maximum capacity of 20 students and professors are encouraged to use innovative teaching techniques like in-class debates to further engage the students. For many students, it is one of the best perks of the program.
"The students continually rave about how wonderful these classes are and how they help them to think differently about a particular issue," says James Gump, director of the Honors Program and history professor.
Luckily, an invitation to join Illuminate isn't the only way to become an Honors Program student. Students also have the opportunity to apply mid-year.
"Our students who join mid-year are placed with a mentor who is already in the program. It's nice because they gain both a peer mentor and a friend," says Gump.
But students aren't the only ones who benefit from having the Honors Program on campus. Their commitment to learning and ability to innovate ideas are a constant inspiration to faculty and staff.
"I feel inspired every single day by these smart and really well-rounded students," says Prickett.
— Taylor Milam