Torero Athletics: Men's Basketball Gains First WCC Win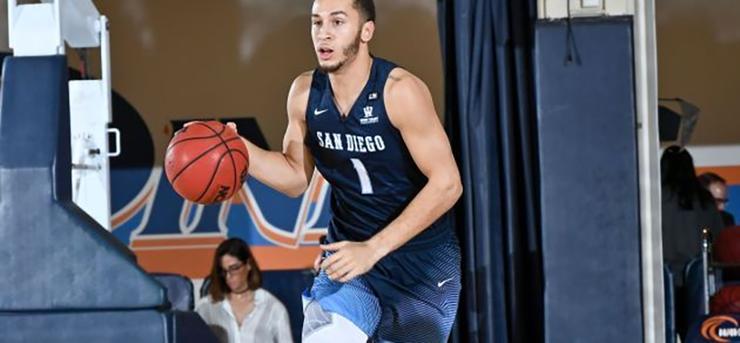 Tyler Williams scored 20 points and three other USD men's basketball players scored in double-figures en route to the Toreros securing their first West Coast Conference win of the season, 76-68, in a road win against Pepperdine in Malibu, Calif.
Olin Carter III scored 16 points, Cameron Neubauer added 14 and Juwan Gray scored 11 points and pulled down 14 defensive rebounds.
The conference win was USD's first since defeating Portland in the 2015-16 team's last regular-season WCC game last February. The outcome was a welcomed bounce-back for the team, too, after a 56-53 loss at home on Jan. 5 to Pacific. In that game, Carter had two opportunities to make a game-tying 3-pointer in the waning seconds but both came up short for USD. Frank Ryder led the Toreros with 11 points off the bench. Carter, Williams and Brett Bailey each had 10. Neubauer had 11 rebounds.
Now 8-8 overall, 1-3 in WCC play, the Toreros are preparing for a pair of 7 p.m. home games this Thursday and Saturday against Santa Clara and BYU, respectively.
Tough Challenges Ahead for Women's Basketball
Coach Cindy Fisher's women's basketball team will face West Coast Conference leaders in a pair of road games Thursday and Saturday against Santa Clara and BYU, respectively.
These key WCC first-half games come on the heels of the Toreros dropping conference contests at Pacific, 84-64, on Jan. 5 and then a 55-42 setback at home against Pepperdine on Jan. 7.
Against Pacific, USD was led by Katherine Hamilton's 16 points. Cori Woodward scored 13 and Aubrey Ward-El had 10. In the loss to Pepperdine, Sydney Williams scored 16 points, a season-high total, on 7-of-15 shooting. Woodward added 10 points, giving her five consecutive games with double-digit scoring totals.
USD (7-7, 1-3 WCC) plays Santa Clara at 7 p.m. Thursday and then faces BYU at 11 a.m. on Saturday. The team's next home game in Jenny Craig Pavilion is Jan. 19 at 6 p.m. against WCC foe Loyola Marymount.
Swim Team Fourth in USD Shootout
Several USD women swimmers reached the finals in their respective events at the USD Shootout at the Sports Center pool on Jan. 7, providing the highlights in a meet the Toreros finished fourth as a team in behind winner Kansas, North Texas and Colorado State.
Sophomore Danielle Taylor reached the 50-yard butterfly and 50 freestyle finals, Missy Beall (50 back), Danielle Deiparine (50 breast), Gwen Walter and Sam Terranova (1000 free), Mackenna Briggs (200 free and 200 individual medley) and the 400-free relay team of Deiparine, Walter, Briggs and Alex Hubel finished second in the finals.
The Toreros return to their home pool this Friday at noon for a meet against Fresno State. A busy weekend for aquatic events continues with USD competing at the Lion Cup at Loyola Marymount on Saturday starting at 10 a.m. and USD's divers will vie in the UCLA Invitational on Friday and Saturday.
Spring Tennis Season Opening
The men's tennis team will host Utah State in a Jan. 15 match at 1 p.m. It'll be the final tune-up before USD competes in the ITA Kickoff Tournament in late January. Meanwhile, the women's tennis team will compete in the National Collegiate Tennis Classic in Palm Springs this Friday through Sunday.
For all USD Athletics news, scores and information, visit the website and follow on social media: Facebook, Twitter and Instagram.