Thankful: Student Reflects on Thanksgiving Outdoor Adventures Trip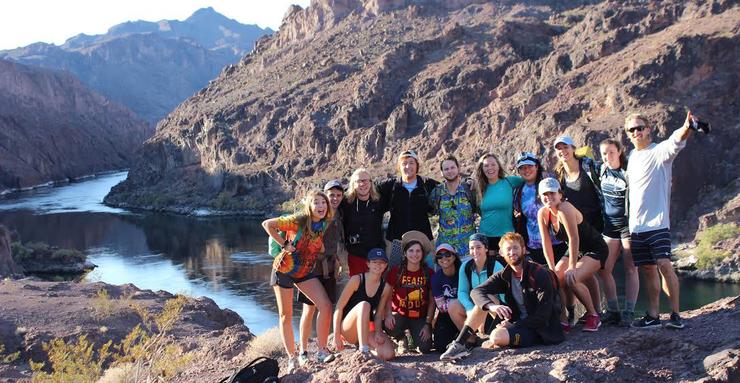 The University of San Diego's Outdoor Adventures (OA) hosted a Thanksgiving trip for students that consisted of camping along the Colorado River, learning about environment and water issues and had fun making and sharing a meal with fellow Toreros. Sophomore Tiffany Zhang reflects on a very rewarding and fun experience.
Wait, what did I just sign up for? Am I really going to spend my Thanksgiving Break canoeing and camping along the Colorado River?
Growing up in Los Angeles, I wouldn't consider my family to be 'outdoorsy' and while we do celebrate a number of important holidays, Thanksgiving is not near the top of the list. I'd heard the stories about USD's Outdoor Adventures trips and perused their beautiful photos. I knew we'd be canoeing miles of crystal clear water, hiking rugged canyons and soaking in natural hot springs, but I wasn't convinced.
"Just do it, dude."
These four words of encouragement from Kelly Sloan, OA staff member extraordinaire, were the nudge I needed to sign up. I was excited to step outside my comfort zone, try something new and have a Thanksgiving adventure over the holiday break.
Did I mention I have social anxiety? I'm really going to be living in the wilderness spending all my waking hours with a group of strangers without access to showers or running water. Why would anyone do that?
Whenever I'm put into a new group of people, I experience some anxiety trying to be myself and connect with the group. Trying to build upon past experiences, I made a promise to myself to remain genuine, empathetic and to just go with the flow and enjoy the ride. As with all OA trips, fostering a strong sense of community through meaningful conversations is a primary focus for the student guides and they did an exceptional job with our group. During our travels up and down the river, we went from a cordial group of students to friends rolling around in the dirt together and singing throwback Britney Spears songs in the van.
What do people even do on Thanksgiving? Are we supposed to gather around the fireplace and sing songs or is it more like an episode of 'Man vs. Food?' I know that we'll share what we are thankful for and a turkey is typically involved, but other than that I wonder what Thanksgiving will be like.
I soon discovered what makes Thanksgiving so amazing: it's a day of relaxation filled with a strong sense of camaraderie and, most importantly, amazing food. We had an epic day!
We started our holiday with a morning hike in White Rock Canyon followed by yoga and time for reflection on the edge of the Colorado River. Sebastian and Sonya, graduate students in SOLES who are passionate about mindfulness, led a series of reflections and really enhanced our group dynamic with their knowledge and just general awesomeness. Next we enjoyed a soothing soak in the Arizona Hot Spring, which consists of three pools of increasing temperature nestled in a slot canyon. After hanging out and playing some intense games of Spikeball (for the record, Luke and I beat Sebastian and Sonya) it was finally time for the main event ...
Our USD student OA guides, Sam Eller, Angela Hessenius and Aimee Steen, really stepped up their backcountry cooking. We feasted on turkey, mashed potatoes, gravy, sweet potato casserole, steamed veggies and warm biscuits that were cooked with coals from our campfire. It was the grandest Thanksgiving feast I've ever experienced and I wouldn't have wanted to share it with any other group of people. Even though we were all here for different reasons, whether it be because of the expense to fly home or because home was too crazy due to family drama, we shared a special Thanksgiving at "home" in the canyon with our OA family.
After we were all stuffed, we watched a documentary, Killing the Colorado, that was followed by a conversation about environmental justice issues involving communities that rely on water from this river, including San Diego. It was an eye-opening discussion and provided many of us with an overwhelming appreciation and sense of responsibility for the amazing place we were experiencing firsthand.
So I gave up shopping on Black Friday to go camping?
The moment that really solidified this trip as one of my favorite outdoor experiences was after struggling to paddle against the river current for a solid hour and a half, the bridge of the Hoover Dam came towering into view. It brought a rejuvenation of energy and as we glided up to the basin of the Dam, we were all in awe of this man-made feat. It was Black Friday and I felt like I just got the sweetest deal.
Though I may not have been battling people in the stores to get those shoes I wanted, I did test my resolve and paddling skills. My reward was experiencing a place that not many people get to see. I learned in that moment that the things we value most require time and effort. We were all alone, basking in the beauty of the Black Canyon. It's so easy to miss these moments when we become misguided by a consumer-oriented society.
Outdoor Adventures trips are much more than just visiting beautiful locations and spending time in nature. These experiences are about authentically engaging in community; cultivating a willingness to take risks; encouraging personal growth; reflecting on values and beliefs; and impelling students to positively impact on the world around us. Bonus, there is no easier way to make friends and be authentic than having no showers and no cell service!
Most importantly, this trip provided me with an opportunity to take time away from my busy schedule to reflect on those things I'm most thankful for in my life. The experience left me extremely grateful for the awesome group of new friends I just made. I have a new appreciation for USD providing this opportunity to explore an amazing off-the-beaten-path location and learn about water issues impacting our environment. As a result of this trip I now have awesome stories to tell and memories I'll always cherish.
So the next time you're presented with an opportunity at USD that might fall outside your comfort zone, just take Kelly's advice: "JUST DO IT, DUDE."