Class of 2016: USD's Commencement Arrives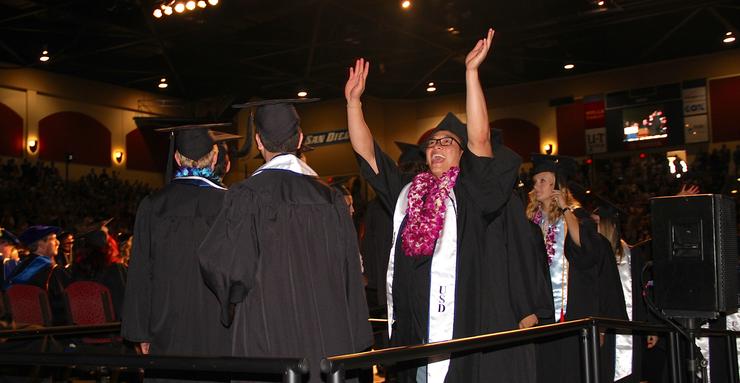 The time is now. The moment has arrived. The path that started with a welcoming orientation a few short years ago will culminate with names being called in the Jenny Craig Pavilion, walking across the stage to cheers, receiving a congratulatory handshake by President James T. Harris and the realization of becoming a University of San Diego graduate. A Torero for life.
The annual graduation festivities, which actually began May 14 with the School of Law's commencement, will continue May 21 and 22 when more than 2,000 USD Changemakers in business, education, engineering, liberal arts, nursing and peace studies earn their degrees.
Over 700 will receive master's and PhD degrees at the Graduate Schools graduation on Saturday, beginning at 10 a.m. On Sunday at 9 a.m., 650 undergraduate students in the College of Arts and Sciences will receive bachelor's degrees. At 2 p.m. Sunday, another 650 in the School of Business and the Shiley-Marcos School of Engineering will receive their BA degree.
Hundreds of graduates are San Diego residents whose family and friends will join them for the celebration. Many graduates are the first in their family to earn a college degree. Most all of USD's graduates, including master's and PhD students, have participated in the transformative experience of studying abroad.
"Our graduates are inspired and exceptional Changemakers in their chosen professions, capable of creating a more just, healthy, peaceful and prosperous world in the years ahead," said President Harris, who will address his first class of graduates since joining the university as its fourth president this past August.
Along with the conferring of degrees, each ceremony will also include inspiring remarks from this year's Commencement speakers.
• Entrepreneur and community advocate Robert E. Price, president of Price Charities and Price Philanthropies Foundation and Chairman of the Board for PriceSmart, Inc., will address the Graduate Schools graduates. He will also receive an honorary degree, a Doctor of Humane Letters, from USD.
• The College of Arts and Sciences undergraduate ceremony speaker is USD Board of Trustees Chairman Ron Fowler, who is executive chairman and co-owner of the San Diego Padres baseball team and the CEO of Liquid Investments, Inc.
• Business and Engineering ceremony will be addressed by Dr. Geoffrey Tabin, professor of surgery and ophthalmology for the Utah School of Medicine and co-director of the inspiring Himalayan Cataract Project.
USD's 2016 valedictorians, Behavioral Neuroscience major and women's tennis standout Marta Stojanovic for the College of Arts and Sciences and Business Administration major Blake Sherman in the School of Business, will speak at their respective undergraduate ceremonies.
For those who cannot attend this weekend's ceremonies in person, the University of San Diego website is livestreaming each graduation as well as the Baccalaureate Mass at 4 p.m. Saturday in the Jenny Craig Pavilion.
For more information on USD's 2016 Commencement ceremonies, please visit www.sandiego.edu/commencement
— USD News Center