L.I.F.E. Week: Water is Life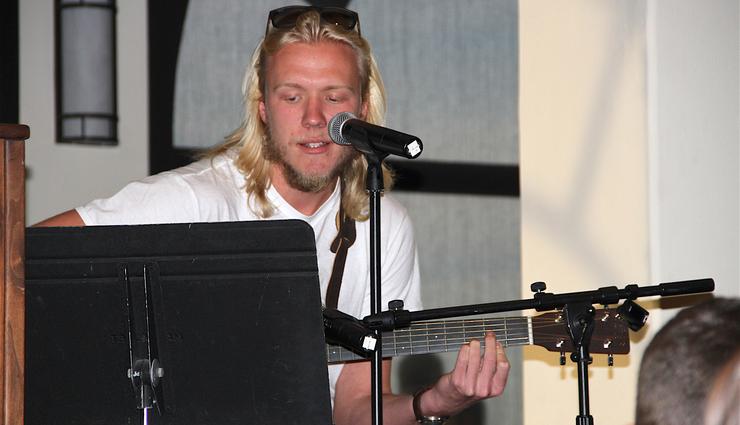 Statistics may never tell the whole story, but they certainly provide a sobering reminder of just how critically important water is for living.
One in 10 people lack access to clean water. Eighty percent of illnesses are linked to poor water and sanitation conditions. Global water demands are expected to increase by 40 percent in the next 10 years and, by 2025, two-thirds of the world's population will live in conditions of water scarcity. The water crisis, according to the World Economics Forum, is considered the No. 1 threat to global stability.
These were just a few of the points on an information card that was placed at each table inside the University of San Diego's UC Forum C on April 19. It was here that the newest addition to Students for Life's social justice issues lineup for its annual L.I.F.E. (Living is for Everyone) Week offered a substantially important night of water education.
"It was a new issue for us to consider (for L.I.F.E. Week) because the USD Changemaker Hub set up water as an issue for the whole campus to incorporate and be collaborative with other departments on campus," said Juliana Mascari, USD Students for Life co-president. "We wanted to do something that everyone's interested in and, considering that water is the source of life to begin with, it should be a basic human right and, therefore, it should be part of our L.I.F.E. Week activities."
Tuesday's program started with a sustainable friendly dinner, then featured short video clips of documentaries focused on global water issues. A few USD students, including Mascari, delivered passionate spoken word verses about the importance of water. Freshman Luke Garrett (pictured, above) sang an acoustic cover of an obscure but poignant 1971 song by The Beach Boys, "Don't Go Near the Water."
Paula Morreale, USD Office of Sustainability Coordinator, shared insights on California's drought and shared helpful tips on conserving water. Morreale reminded the audience about the April 21 Earth Day celebration on campus and about voting for student ideas in the Changemaker Challenge, a social issues competition in which students produce two-minute videos focused on water consumption and conversation.
Circling the room were beautiful photos and scenes from places such as Yellowstone National Park, the Grand Canyon, Joshua Tree and more. One student, Stephanie Halper, gave a perspective as if she was the mighty Colorado River.
"Who else provides the water supply for 33 million humans over seven states and two countries while simultaneously irrigating 3.5 million acres of crop land?" she said, continuing onward about the river supporting 250,000 jobs and that it also supplies 15 percent of the nation's food. Halper closed with a somber note that the frailty of water, along with climate changes appear to signal an unpredictable future for the Colorado River and other nearby bodies of water.
Mascari said the event, titled "Water is Life," is one example of L.I.F.E. Week's importance. The week's programming also focuses on domestic violence, homelessness, abortion/adoption and human trafficking.
"I think it's important as a Changemaker Campus that we provide opportunities that relate to the social issues people are experiencing or haven't yet experienced, both inside and outside the classroom," she said. "When we combine (classroom education) with service projects, it's important that it's more than just the educational component — it's getting out there and being the Changemakers that the university calls us to become and, honestly, what our Catholic heritage calls us to become."
— Ryan T. Blystone