Telling Women PeaceMakers' Stories the Write Way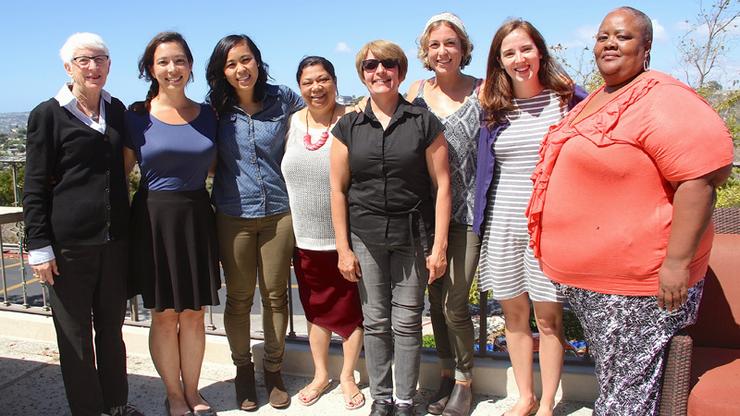 One is a lawyer, human rights activist and former judge from Afghanistan. Another, from Namibia, campaigns against small arms and gun violence. One served as commissioner for the Truth and Reconciliation Commission in South Africa and another is a professor emerita from Israel who specializes in international affairs and foreign policy and is a seasoned grassroots activist and peacebuilder.
Last fall, these four women — Judge Najla Ayoubi, Pauline Dempers, Glenda Wildschut and Galia Golan, respectively — comprised the 13th cohort of the University of San Diego's Women PeaceMakers Program via the Joan B. Kroc Institute for Peace and Justice. Collectively, these women lived on campus for 10 weeks to share their vitally important voices, knowledge and stories, providing a powerful resource and serving as inspirational role models to all. They've seen a lot, done a lot and have the focus, intellect and firsthand experiences that deserve to be chronicled.
So imagine how a group of four female peace writers — Gabrielle Clifford, Jenna Barnett, Maggie Thach and Claire Doran — felt being selected to capture the life stories of these four extraordinary international women.
"It was one of the most meaningful experiences I've ever had, personally and professionally," said Clifford. "Documenting the experiences of women in conflict and of those who have acted in ways to transform it calls on the commonalities that we share as humans, and I can't think of many things more powerful than that."
The Process of Learning
The writers had daily meetings with their assigned peacemaker, transcribed interviews and turned in narratives every few weeks. Each writer had a solid professional and educational background and they were ready for what was an unforgettable assignment.
"The best question I ever asked," said Barnett, who was paired with Dempers, "was 'Can you tell me more about that?'"
Barnett, a freelance writer and editor with a background in sociology research and interfaith organizing, had limited knowledge about Namibia, but it quickly changed. "I was certainly not aware of the human rights crimes committed by their ruling party during the liberation movement," Barnett said. "Now I want to keep learning more and to tell as many people about Pauline's story as possible."
Clifford's background is in international relations, conflict resolution and environmental sustainability. She worked with Ayoubi and said she was moved by her peacemaker's passion and what she championed
"I've never been so full immersed in another person's life before. It felt like I was trying someone else on for three months," Clifford explained. "I felt I became so immersed in Najla's world view and experiences, ideologies and her principles which she stands for, what (ticks) her off, what makes her cry, what she works for, how she developed through her experiences and how she addressed her persona and her challenges."
Thach, a former sports journalist turned writing and literature teacher, said she was very comfortable with Wildschut.
"The first meeting with Glenda was very easygoing. I was comfortable with her right away. Glenda reminded me of my mom, so immediately, I felt comfortable around her. Our relationship did grow and become nurturing the way a mother-daughter relationship would be. I often felt like I was just going to some kind of matriarch in my family and listening to family stories. I didn't feel like I was doing work and interviewing her."
Doran, a mediator and writer who recently earned a master's degree in peace studies in Tokyo, already had some powerful experiences to draw upon. One, she said, was listening to atomic bomb survivors tell their stories. For that assignment, Doran did a drawing as they spoke and accompanied it with their words. It was presented to them as a personal keepsake and it gave Doran a stronger, meaningful connection.
"What was transformative for me is that what I made for them was celebrated. Something was gained from it. … Having someone who has a voice and cares about this story is going to announce it," she said.
Doran said she enjoyed her time with Golan, too, describing her as "vibrant, determined and intellectual."
Telling Stories
The peacemakers' stories brought their lives into focus for the writers, but they did have the last word on how it was presented. While there were corrections made, it was apparent that the trust between the peacemakers and the writers was present at all times.
They clicked at the orientation meeting. One IPJ staff exercise was to have the peacemakers interview their writer and do a story on them.
"Pauline asked me questions about my childhood and it helped me realize how vulnerable, but ultimately fulfilling, this process can be," Barnett recalled. "She wrote a story from my childhood that no one aside from myself had written about and she printed it for me the next day."
Clifford said her morning meetings included breakfast — even Afghan omelets — cooked by Ayoubi. Barnett and Clifford said the easiest topic their peacemakers spoke of was family. Doran said Golan was passionate about history.
Wildschut loves to talk about singing. "Not about little songs, but big opera songs. I knew her love of singing had to be part of her story," Thach said.
Another favorite moment was when Wildschut told Thach that Archbishop Desmond Tutu had baptized her baby. "When she told me about it, it felt like such an intimate experience that I felt honored that she shared it with me. It was just really beautiful."
Writers' Bond
The closeness of the writers was an added benefit for support and inspiration.
"I really came into this experience thinking this was only a professional endeavor," Thach said. "I think it helped that we were all in the same age range and that we could relate to each other on many different levels. We bounced a lot of ideas off of each other. They became a big part of my life. I really fed off of our synergy."
The friendships that developed, Doran said, echoed that of the peacemakers.
"I would consider the other peace writers among my close friends. I was constantly recalibrating with them in our writing room, requesting their advice, checking in with how they were tackling certain problems, and for things outside of the program, too. It is impossible to not bring whatever is happening in your own life into the workplace, and we got to know each other quite well."
Final Thoughts
Peace isn't easy. It's a patient, prolonged process that never seems settled. Peace, though, is a longing that each USD Woman PeaceMaker — 52 in all since 2003 — has in common. This pursuit, which is central to USD's Kroc School of Peace Studies' existence as well as through the efforts of IPJ staff and IPJ programs, offers a sense of hope for a better, just world.
During their 10-week stint, the actions that peacemakers have taken in their respective countries to help end violence, promote peace and to bring calm, awareness and solutions to the forefront was discussed. The writers, tasked to gather the information and share their subject's story, often examined how the peacemaker's pursuit for peace applies to any situation, anywhere.
"There were so many parallels with South African and American history," Thach said. "Both countries have dark moments in their past. What I gained from learning about South Africa and apartheid is that the roots of these social ills are ignorance and an unwillingness to be compassionate. I wonder how our country would be affected if we had a truth and reconciliation commission. There is a lot of power in being able to tell your story and your truth. It's more than just money or justice — it's about being at peace with the transgressions that have happened in the past. It's about recognizing that wrongs have happened and how to prevent them in the future."
— Ryan T. Blystone
Learn more about the application process to be a Peace Writer for the Women PeaceMakers Program