Pope Francis' U.S. Visit, Presence Inspires Toreros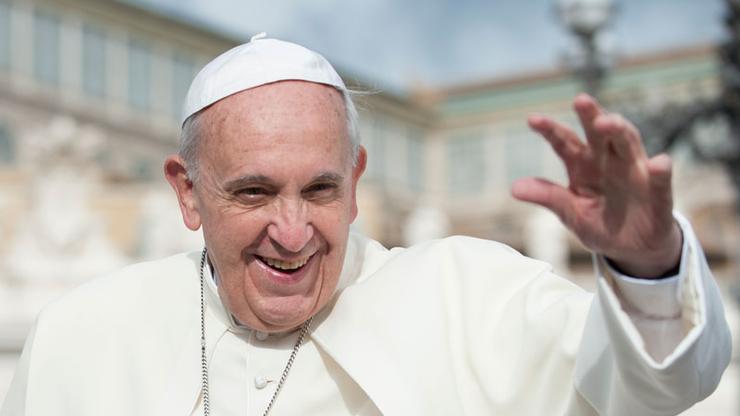 Ever since his plane touched down on American soil earlier this week at Joint Base Andrews in Washington D.C. and he emerged to a flood of cheers and happy tears from people of many faiths and cultures, Pope Francis' smiling face, his calm, genuine manner and aura have been awe-inspiring. So, too, have his words.
"I am most grateful for your invitation to address this Joint Session of Congress in 'the land of the free and the home of the brave,'" said Pope Francis, as he became the first-ever Holy See to speak before Congress on Sept. 24. "I would like to think that the reason for this is that I, too, am a son of this great continent, from which we have all received so much and toward which we share a common responsibility. Each son or daughter of a given country has a mission, a personal and social responsibility."
USD Celebrates the Pope
A few thousand miles west, in the University of San Diego's Hahn University Center Forum C, a large group of students, faculty, staff and administrators cherished the chance to witness this historic event. The watch party, sponsored by USD's University Ministry, Center for Christian Spirituality and the Frances G. Harpst Center for Catholic Thought and Culture (CCTC), was followed by the opportunity for the audience to voice their observations.
"I was really interested in seeing it," said one student who, along with her classmates from a nonprofit leadership class, was glad she attended. "I was raised Catholic and I have ties to it so I wanted to see and hear the pope speak."
Another student thought Pope Francis' appearance in front of Congress, especially in a place where partisan thinking is prevalent, allowed him to serve as a "beacon of solidarity."
Sophomore finance major Nick Hatton, said he wasn't about to miss this opportunity. "I really wanted to see what the Pope had to say because I think he's an important figure worldwide — no matter what your religion is. I'm really interested in politics and really interested in my faith and this was the perfect combination."
An Inspiring Address
Argentina native Pope Francis, speaking slowly but steady in English, likely his third or fourth language was able to bring forth multiple issues to an audience that routinely cheered and stood up to applaud.
He offered passionate shining examples of four Americans — Abraham Lincoln, Martin Luther King Jr., Dorothy Day and Thomas Merton — whose work shows us all the value of dreams and the importance of carrying through with it.
"Three sons and a daughter of this land, four individuals and four dreams: Lincoln, liberty; Martin Luther King, liberty in plurality and non-exclusion; Dorothy Day, social justice and the rights of persons; and Thomas Merton, the capacity for dialogue and openness to God," he said.
The pope's six-day U.S. trip — Francis' first since becoming pope in March 2013 —is enabling him to address such topics as climate change, immigration and human rights, support for the poor and the importance of life at every stage. In his Congress address, he also spoke out against the death penalty.
His presence this week has given devoted followers a sense of hope and an abundance of love in their hearts.
Hatton said his favorite takeaway from the pope's Congress speech was about "the yardstick that we use for others is the one that in time we use for us. I think that it's very important. We can't go judging others without letting time to use that same measurement to judge what we do — and the work that Congress does for our nation."
Pope Francis' itinerary transitions to New York City where he will participate in prayer (vespers) at St. Patrick's Cathedral, visit the United Nations, address the U.N. General Assembly, participate in a multi-religious service at the 9/11 Memorial and Museum, visit Our Lady of Queen of Angels School in East Harlem, have a procession through Central Park and Mass at Madison Square Garden. He flies to Philadelphia Saturday morning for another packed series of events. He departs for Rome on Sunday evening.
Alumna Describes "Unforgettable Experience"
Julieta Barrios described the environment surrounding her in Washington D.C. as "electric" on Wednesday, soaking up the exciting scene caused by the anticipation of being a firsthand witness to Pope Francis' first-ever visit to the United States.
"The adventure started when I got off the Metro (train) -- shirts on sale, Vatican City flags, pins with pictures and quotes, and people singing gospel songs. Thousands of people waiting in long, slow-moving lines with such friendly and positive attitudes," said Barrios, a 2012 University of San Diego alumna (BA, Ethnic Studies).
After an hour-long wait to get through heavy security, but remaining calm and feeling safe, Barrios, who had a ticket for the Mass of Canonization for Junipero Serra in the Basilica of the National Shrine of the Immaculate Conception, was rewarded for her patience.
"We waited for an hour in the heavy sun for his Holiness. Finally, it was time for him to arrive — and park right in front of us — in his Pope Mobile. Immediately, I felt a great sense of peace and tranquility. Pope Francis made me feel like we belonged to each other, like we were both extraordinary people. The closer he came to me, the more sentimental I felt. After a few minutes, I was overcome with a sudden wave of tears because I knew that I was blessed. I knew that my heart was beating in harmony with his and others'. It was sheer goodness and love going through my mind and soul."
Attending the Mass, Barrios' joy was overflowing. "Soon after he began the Mass, gently speaking Spanish. Like it says in the Prayer of Saint Francis of Assisi, Pope Francis preached to not just be loved, but to also love others. This is his mission: to love and be loved. And I undoubtedly felt this at the Basilica. This was, sincerely, the most extraordinary, surreal experience I've ever lived. I have this memory embedded into my heart and I'm sure that I will never forget it."
Pope Francis Website, USD's Presence
While Pope Francis' visit to the United States runs through Sunday, Sept. 27, following the University of San Diego's website dedicated to Pope Francis, www.sandiego.edu/francis is a great resource to return to for more information. Among the items to find are articles written by USD Professor of Environmental and Ocean Sciences, Michel Boudrias, pertaining to turning the Pope's encyclical into action and Jeffery Burns, director of the CCTC, examining the Father Junipero Serra canonization.
Furthermore, the CCTC will host Dan Misleh, a graduate of the Franciscan School of Theology, and founding director of the Catholic Climate Covenant, on Oct. 8, 4-5 p.m. in Mother Rosalie Hill Hall's Warren Auditorium. Misleh will speak on Pope Francis' encyclical on the environment, "Laudato Si: On the Care of Our Common Home," and suggest some practical applications.
— Ryan T. Blystone
Photo credit: iStock.com/neneos