Bishop McElroy Presides Over USD's Mass of the Holy Spirit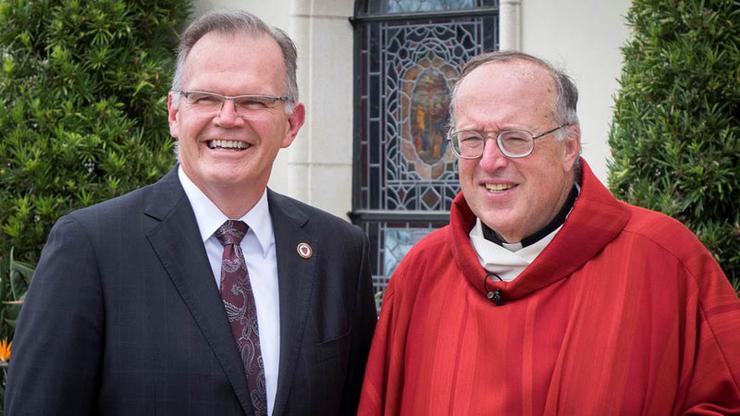 One of the most meaningful signs of a new academic year at the University of San Diego took place on Sept. 10 in The Immaculata Church. The Mass of the Holy Spirit, a traditional fall semester-opening event, welcomed new and returning students, faculty, staff and administrators to the 2015-16 year.
It was especially welcoming to university newcomers, including USD President Jim Harris, deans Nicholas Ladany (School of Leadership and Education Sciences) and Jaime Alonzo Gomez (School of Business Administration), and student leaders from USD Associated Students and USD's graduate schools.
Another newcomer was the one who presided over the Mass, The Most Reverend Robert W. McElroy, who became Bishop of the Roman Catholic Diocese of San Diego in April.
"I'm pleased to be here at the university and The Immaculata because it's such a jewel in the life of the local church," said McElroy, who also noted that his appearance was an important opportunity to speak before a university audience. Being present "goes to the heart of one of the elements of the mission of evangelization, particularly with young adults. I look forward to being part of the community here in a variety of ways to share in that task of evangelization."
Following SOLES' Ladany doing the first reading, Colossians 3: 12-17, Amanda Puetz, a USD Residential Life community director, giving the second reading, 1 Corinthians 12:4-12, and Deacon Jeffrey Burns, director of USD's Frances G. Harpst Center for Catholic Thought and Culture, reading the Gospel verses from Luke 6: 27-38, Bishop McElroy gave the homily.
His message connected to Pope Francis' declaration for the Roman Catholic Church to observe a Holy Year of Mercy.
"Mercy is the gift we can give to others," McElroy said. "… We can transform the world if we live in that mercy. Though we must always seek the standards of character, which are demanding of who we are and who we aspire to be, we must not rest with a narrow view of justice and right and wrong, but let mercy always be in the heart of who we are, how we judge, how we live our lives and how we approach the lives of others around us."
"That's the message," he continued, "Pope Francis pointed us to in the light of the church — to make mercy the mercy that acknowledges justice, but also goes beyond justice. The mercy that is ultimately the fundamental attribute of God in relation to us. It is God of mercy who sees us in our strengths and our failings and loves us all and calls us to reflect that mercy in all of our lives, toward others and toward ourselves. … I pray that in this university, in this year, this might be a university in which all members might understand … the mercy of God which is always there and the mercy which is called to the center of who we are in our heart and how we treat others, how we label and how we judge and how we speak. For it is the mercy of God that is the greatest gift to receive and it is the light of mercy, the first among many, that is the moral right of every follower of Jesus Christ."
— Ryan T. Blystone