SBA Supply Chain Students Take First Place in Case Competition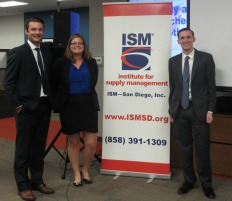 A trio of seniors majoring in supply chain management in the School of Business Administration at the University of San Diego placed first in the Institute for Supply Management (ISM)-San Diego's 2nd Annual Case Competition, held March 21.
Joe Carpenter '15, Therone Tillett '15 and Sarah Walbridge '15 competed against teams from California State University-San Marcos and San Diego State University in this daylong competition that asked teams to review a case, prepare solutions and give a presentation.
The event was hosted by LifeProof by Otterbox Products and held at its Rancho Bernardo facility. The winning SBA team received full registration and partial travel expenses to attend ISM's 100th Annual Conference in Phoenix, May 3-6, 2015.