Announcing the 2014 Social Innovation Challenge Awardees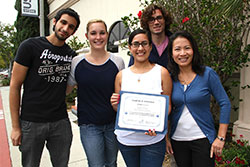 It was a full house, buzzing with palpable energy on Friday May 2, 2014, when 16 finalist teams took the stage at USD's Peace and Justice Theatre to pitch their social venture ideas. Eight teams walked away with a total of $73,500 of award money to help launch their enterprises. The Award Ceremony was the culmination of months of effort developing viable social enterprises for the 2014 Social Innovation Challenge (SIC). The 2014 SIC Awardees (listed here) are students who are using their creative imagination to implement innovative business and non-profit approaches to address the social, environmental, and justice issues they are passionate about. With seed money from the SIC these students will now be turning their ideas into a reality.
The 2014 SIC is the 4th annual student social entrepreneurship competition hosted by the University of San Diego's Center for Peace and Commerce. This year, with the support of the Moxie Foundation and Outerwall, the SIC expanded and launched the inaugural "San Diego Track," which invited students from Point Loma Nazarene University, San Diego City College, San Diego State University, and University of California San Diego to participate in the Challenge. The 16 finalist teams in this year's SIC included 8 teams from USD and 8 teams from the San Diego Track schools. All teams had to go through 3 rounds of judging, develop a comprehensive "Roadmap to Success" business plan, and pitch their project idea in front of a live panel of expert judges. Students who have received seed money from the SIC will continue to receive mentorship and opportunities to participate in local incubator and accelerator programs to help strengthen their ventures. Through the SIC the Center for Peace and Commerce seeks to continually strengthen and expand the horizons of social innovation both locally and abroad.