March of the Toreros: A True USD Tradition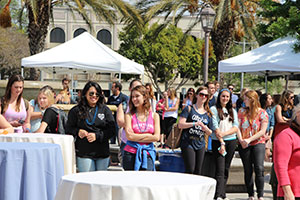 On Thursday, March 6, a very exciting event took place on campus. The Torero Program Board hosted University of Diversity Week's 6th Annual March of the Toreros. Toreros gathered to celebrate each other's uniqueness and march in solidarity against acts of intolerance as one USD community.
Undergraduates, graduate students, staff, faculty, and administration gathered to march across campus ending at the Joan B. Kroc Institute of Peace and Justice. Individuals from different cultural backgrounds, identities, age groups, and on-campus involvement all smiled and clapped together as they marched across campus for a great cause. Our community leaders filled the week's closing ceremony with free food, entertainment and an inspiring speech by the Associate Provost for Diversity and Inclusion, Dr. Esteban Del Rio.
What's really great about the 6th Annual March of the Toreros is not only its tradition, but the meaning behind it. The march is a beautiful way to see the campus community come together and support an important aspect of our univiersity's mission statement.
"It symbolizes the coming together of everyone on campus to celebrate the individuality of everybody and our common identity as Toreros," said Lavanya Sridharan, TPB Multicultural Programming Coordinator. "It is an exuberant event at USD that celebrates the diversity of our campus and our solidarity and commitment to promoting a more inclusive campus environment."
The great thing about USD is that the celebration does not end at the finishing point of the March. If students want to get more involved, there are many organizations they can join on campus to promote diversity and engage in meaningful dialogues, including the Associated Students, Torero Program Board, the United Front Multicultural Center, the Women's Center, and the Center for Inclusion and Diversity to name a few.
Read more or view a photo album from the event.