AS Elections 2014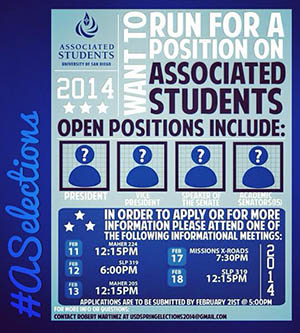 There has been a buzz around campus about AS Spring Elections. Many of you might be wondering questions such as: What is AS? What positions are open? How can I run?
AS is an acronym for Associated Students. Associated Students is the student governing body representing the voice of the undergraduate student body population. AS is composed of 30 elected positions. Additionally, between AS and its programming arm, Torero Program Board (TPB), there are over 20 positions that are appointed shortly after Spring Elections through an application process. These appointed positions include both executive level and director level positions.
If you are driven and seek to create a positive change on campus, and are a freshman, sophomore, or junior with a 2.5 GPA or above, these AS positions – both elected and appointed – might be for you!
To be able to run for an elected position, you must attend an AS Elections Informational. The AS Elections Informational covers the general duties of each position as well as the election process as a whole. Again, positions that are elected include some AS Executive Board positions and all AS Senator positions. An Informational is the only way in which an application packet can be obtained. If you have questions, this would be the place to get them answered. If you are not able to attend an Informational and are still interested, contact Robert Martinez, AS Director of Recruitment, at rwmartinez@sandiego.edu.
For elected positions, candidates must attend an Informational meeting, submit an elections candidate packet, and go through the campaigning process. If the votes tally in your favor, the position is yours!
The application process for appointed positions is different. For appointed positions, candidates do not have to attend an Informational. Applications for the appointed positions will be posted electronically on the AS website in early March and are due by March 28. Once the applications are submitted, candidates will go through an interview process and will then find out if they were selected for the position.
The ideal candidate for these positions are students who are passionate about being a Torero and would like to make a positive change on campus through a formal leadership role. AS looks for students who would objectively represent the voice of the undergraduate student population. We look forward to seeing Toreros continue the awesome work of past AS teams, and build on their success to have a better campus! Good luck Toreros!