SOLES to Receive AACTE Award in Support of Global Diversity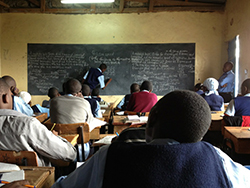 The School of Leadership and Education Sciences (SOLES) has been awarded the American Association of Colleges for Teacher Education (AACTE) 2014 Best Practice Award in Support of Global Diversity. The award recognizes a school, college or department of education that fosters diversity, equity and global awareness as core elements of its educator preparation programs. The award will be presented March 1 at AACTE's 66th Annual Meeting in Indianapolis.
SOLES was selected by the AACTE Committee on Global Diversity, which reviews submissions for the award,for our inclusive and advanced approach to diversity and for the internationalization of its program and curriculum. Among several points of strength, the university was commended for engaging in a concentrated effort to recruit and retain diverse faculty members who are representative of the community they serve.
In addition, the committee noted that SOLES prioritizes the need to strengthen knowledge and understanding of issues of diversity, equity and global perspectives by supporting professional development and scholarship of all faculty. Candidates in the program are also provided the opportunity to participate in international student teaching activities that both enhance and contribute to candidate learning experiences in a global context.

"The School of Leadership and Education Sciences is honored to receive the prestigious AACTE Best Practice Award in Support of Global Diversity," said Paula Cordeiro, Ed.D., dean of SOLES. "We believe an international perspective is crucial in creating globally conscious teachers and preparing them for today and tomorrow. Our students participate in an international experience to gain this cross-cultural education immersion which develops their strengths in their selected area of teaching and readies them to nurture globally conscious citizens in their own diverse classrooms. AACTE's recognition of our efforts is especially appreciated and rewarding."