Steve Budica's Journey from Marine to Mentor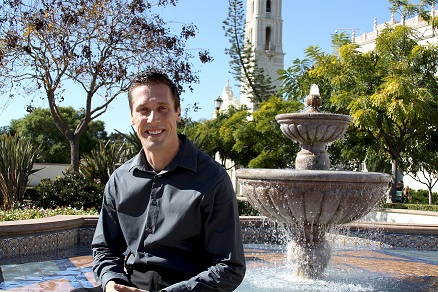 San Diego (February 5, 2014) – Steve Budica, '14 (JD), has relished his interactive experiences in law school, enrolling in the law school's Veteran's Clinic and working as an academic success fellow.
In the Veteran's Clinic, Budica refined his research skills as he advised the supervising attorney on possible abusive practices by for-profit educational institutions. For example, Budica worked on a case in which a vet, whose school had received thousands in government money, was told the school was closing its San Diego office; he would have to come to Riverside to complete the internship that he needed for his degree, which was not a realistic option.
Budica's interest in the Veteran's Clinic is not surprising since he is himself a vet, having joined the Marines right out of high school. Budica had been warned never to volunteer, so during basic training he remained silent when recruits were asked if they'd like to become platoon leaders; but he saw no reason to be cautious when he volunteered to box another Marine who outweighed him by 60 pounds. His plan backfired when he won the bout and the drill instructor immediately made him a platoon leader.
Nineteen-year-old Budica found himself in charge of many recruits older than himself, and learned that a platoon leader receives the same punishment as any of his men who get in trouble. "I did many, many push-ups," he recalls.
After basic training, Budica went on to serve for four years as a crew chief on a CH 53 helicopter. As part of a six-month deployment on an aircraft carrier, Budica spent one month on a relief mission to East Timor; the huge 99-foot-long copter was ideally suited to fly in heavy shipments of supplies to the war-ravaged area. Budica believes the experience of seeing young kids in East Timor playing happily with a broken toy, even as they were surrounded by violence and extreme deprivation, cured him of any tendency towards self-pity.
Budica's next step before coming to law school was to earn a bachelor's degree from Berkeley in political science while supporting himself working weekends as a bartender on Fisherman's Wharf. Even though the considerable leadership skills he'd acquired in the Marines led to him being offered work managing the restaurant, Budica soon realized he could make a lot more money earning tips tending bar.
Another satisfying experience for Budica has been his work as a fellow with the Academic Success Program where he has been helping first-year students to master the intricacies of Professor Shaun Martin's civil procedure class. Budica finds stimulation in working with his bright students, who will trip him up in office hours if he's not fully prepared. He worries about his students and often sleeps poorly on the night before they have a test, although he sleeps soundly before his own exams, managing stress by running ten miles a day during the exam period.