Halina Duraj Publishes New Book, 'The Family Cannon'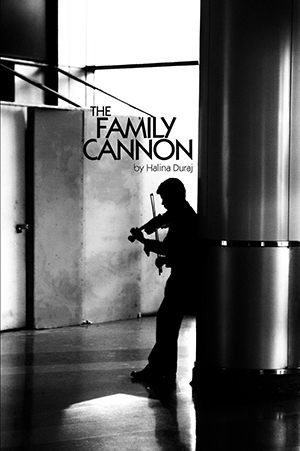 The Department of English's Halina Duraj, PhD, has a book, The Family Cannon, which is being published this January 2014. The Family Cannon, a short story collection, is available for pre-order from Augury Books. The book will be available from Amazon later in the month.
Augury Books held a launch party for The Family Cannon in New York City on Friday, January 24, 2014. The launch party, held at Berl's Poetry Shop in Brooklyn, was complete with readings, drinks, and irresistible new books for sale.
"With quiet astonishment, Halina Duraj explores the mysteries of love and madness, offering her readers the secret salvation of story," said Melanie Rae Thon, author of The Voice of the River and In This Light. "Between a father's reinvention of himself, a mother's perplexing fidelity, and a woman's navigation of the complexities of betrayal, we discover the exquisite pleasures of a world restored and redeemed through Duraj's luminous gaze, the loving attention and tender playfulness of an extravagantly passionate imagination."
Read an excerpt from Duraj's The Family Cannon.