The Outstanding Leadership Book Award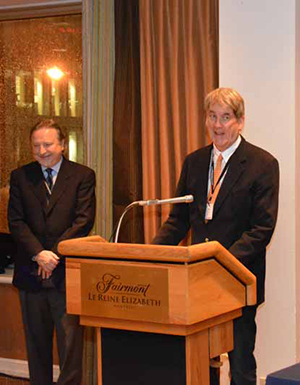 The Outstanding Leadership Book Award for 2013, conferred by the Department of Leadership, went to Leadership Matters: Unleashing the Power of Paradox. Authored by Thomas Cronin and Michael Genovese, this truly exceptional book provides reader with a rich and textured review of the history of leadership studies.
Grounded in prevailing theory and scholarly critical analysis, the authors move beyond a simple review of the literature to make the case that the highest levels of leadership require the capacity to hold paradox, complexity and ambiguity. Cronin and Genovese apply their thinking to a variety professional contexts and, in the end, conclude with compelling arguments that have implications for academia, policy and practice.
Now an annual event entering its fifth year, the Outstanding Leadership Book Award honors publications of exceptional scholar merit that challenge conventional thinking and offer significant contribution to the field of leadership studies. This year the award was given at a reception as part of the International Leadership Association Global Conference in Montreal. The authors are also invited to campus to share their work as seminars for faculty, students, and alumni as well as through a public lecture for the larger community. Previous titles that have been recognized include: The New Psychology of Leadership, Professional Capital, Contextual Intelligence, and Leadership for An Age of Wisdom.
The Award selection committee, which consists of faculty, doctoral students, alumni, and friends of USD also invites your participation. If you would like to join us, contact Zachary Green, Award Chair.
Nominations are also now open for the 2014 Award. The ILA Global Conference, where the Award will be given, will be hosted next year by the University of San Diego. Alumni are encouraged to make nominations for leadership books you deem worthy of consideration. Titles that have a copyright of 2012 or later and that have not been previous finalists for the Award are eligible. We look forward to your nomination!