USD School of Law and San Diego La Raza Lawyers Association Host Forum on Latino Issues for San Diego's Next Mayor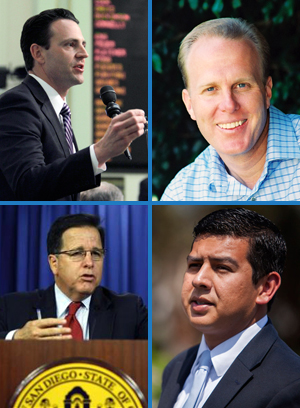 San Diego (November 6, 2013) – Tonight San Diego La Raza Lawyers Association and the University of San Diego (USD) School of Law co-host the Latino Issues Mayoral Forum from 6 – 7:30 p.m. at Shiley Theater on USD's campus. Candidates Mike Aguirre, David Alvarez, Kevin Faulconer, and Nathan Fletcher will discuss and debate issues that affect San Diego's growing Latino population.
Joanne Faryon, investigative reporter with inewsource, and Elsa Sevilla, producer and host of KPBS's San Diego's Historic Places, will moderate the Latino Issues Mayoral Forum. The forum is the only opportunity for candidates to debate primarily Latino issues before the election on Tuesday, November 19.
The debate is free and open to the public but registration is required. Register online at http://sdlrla2013mayoralforum.eventbrite.com.
Event partners include: NALEO Educational Fund, Alianza, Mana de San Diego, NAHREP, San Diego, Justicia Criminal Defense Attorneys Association, MABPA, Chicano Federation, San Diego Hispanic Chamber of Commerce, and National Albondigas Political Society of South County San Diego.
About San Diego La Raza Lawyers Association
Formed in 1979, San Diego La Raza Lawyers Association (SDLRLA) has grown to represent over three hundred Latino and Latina lawyers practicing in San Diego County. SDLRLA is one of 18 affiliate bar associations of the California La Raza Lawyers Association, which serves several thousand Latino lawyers practicing in the State of California. SDLRA's purpose is to advance the cause of equality, empowerment and justice for Latino attorneys and the Latino community in San Diego County through service and advocacy. SDLRA is dedicated to promoting diversity on both the bench and bar and supports law students with mentorship programs and scholarships. Members include current and former state and federal court judges, magistrates, referees, law professors, State Bar committee members, county bar board directors, government officials, elected officials, lawyers practicing in all specialty areas and law students.
About the University of San Diego School of Law
Recognized for the excellence of its faculty, curriculum and clinical programs, the University of San Diego (USD) School of Law enrolls approximately 900 Juris Doctor and graduate law students from throughout the United States and around the world. The law school is best known for its offerings in the areas of business and corporate law, constitutional law, intellectual property, international and comparative law, public interest law, and taxation.
USD School of Law is one of the 81 law schools elected to the Order of the Coif, a national honor society for law school graduates. The law school's faculty is a strong group of outstanding scholars and teachers with national and international reputations and currently ranks 23rd worldwide in all-time faculty downloads on the Social Sciences Research Network (SSRN). The school is accredited by the American Bar Association and is a member of the Association of American Law Schools. Founded in 1954, the law school is part of the University of San Diego, a private, nonprofit, independent, Roman Catholic university chartered in 1949.
About the University of San Diego
The University of San Diego sets the standard for an engaged, contemporary Catholic university where innovative Changemakers confront humanity's urgent challenges. With more than 8,000 students from 75 countries and 44 states, USD is the youngest independent institution on the U.S. News & World Report list of top 100 universities in the United States. USD's eight academic divisions include the College of Arts and Sciences, the School of Business, the Shiley-Marcos School of Engineering, the School of Law, the School of Leadership and Education Sciences, the Hahn School of Nursing and Health Science, the Joan B. Kroc School of Peace Studies, and the Division of Professional and Continuing Education. In February 2016, USD launched the public phase of Leading Change: The Campaign for USD, which represents the most ambitious fundraising effort in the history of the university and builds upon the strong philanthropic momentum achieved by USD in recent years. In September 2016, USD introduced Envisioning 2024, a strategic plan that capitalizes on the university's recent progress and aligns new strategic goals with current strengths to help shape a vision for the future as the university looks ahead to its 75th anniversary in the year 2024.