Torero Offices Go Blue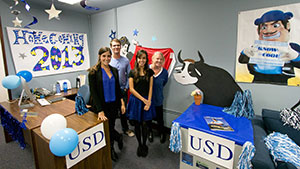 This year's Homecoming and Family Weekend was a real hit. Over 4,000 people turned out for the Big Blue Bash festival and concert alone. That's double the amount of people who came last year! Parents filled the campus following their students on personal tours, and alumni roamed the campus marveling in how things have (or have not) changed since their graduation. Campus offices joined the Torero Spirit Office Decorating Contest sponsored by the Student Leadership and Involvement Center. They worked diligently all week long to get their offices looking their best. On Thursday, October 10, judges toured the offices and announced the winner.
The Torero Spirit Office Decorating Contest was the first office decorating competition done for Homecoming Spirit Week. Office decorating competitions were done before but "only during the holidays and usually coordinated by Liberty (Hebron)," said Jason Schreiber, director of Student Activities. Some participating offices were the Student Leadership and Involvement Center/Student Involvement and Information Desk/Creative Zone, the Changemaker Space, the Vice President of Student Affairs Office, the Office of Student Life Facilities, and the Office of the Assistant Dean of Students. Themes were "Go Blue or Go Home," "Go Boo," "Torero Pride," "USD Flashback," and "Diego's Arena Under the Stars." Office decorations ranged from a series of posters and banners with giant letters spelling "TOREROS" to fog machines, blue wigs and lights. All offices demonstrated their true blue spirit!
It was a fierce competition and three judges had to deliberate on the ultimate winner. The judges included: Kenny Eng from Torero Life, Stephanie Lynch from the Center for Health and Wellness Promotion, and Ronnie Pratte a fellow undergraduate Torero. All the judges were "impressed" particularly due to the "short period of time (they were given)," says Schreiber. The first place winner was the Office of the Assistant Dean of Students, and there was a tie for second place between the Student Leadership and Involvement Center and the Office of Student Affairs.
This competition was the first of its kind and was a definite success at spreading Torero pride. Congratulations to all the offices who participated and the staff who helped orchestrate the entire event, because every office embodied the spirit of being a Torero. All of the offices went above and beyond in their decorations and could make everyone and anyone proud to be a Torero. To see some of the highlights from the Torero Spirit Office Decorating Contest, visit www.facebook.com/torerolife.