Not On My Watch, Not On Our Watch, Not Alone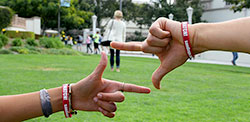 USD Spirit Week is here, and more importantly new Toreros, old Toreros, and every Torero in between are flocking here to the University of San Diego — their home.
For all of us, USD is our home and we deserve to feel welcome here. The essence of being a Torero is caring enough about USD and other Toreros to make our campus as welcoming as possible. We all have the power to impact our campus culture, and make it one where we all feel like we are at home. This is the mission of the USD Not On My Watch Campaign, hosted by the San Diego County Suicide Prevention Council, and brought to USD by the Center for Health and Wellness Promotion, the Counseling Center, and Associated Students. Part of the campaign's mission is to bring greater awareness to suicide and depression prevention, both on our campus and in the greater community. We as a strong Torero community can prevent suicide.
The USD Not On My Watch Campaign empowers the individual Torero to take a stand against the stigma of suicide in our community. A Torero can be an integral part of Not On My Watch in three ways:
Knowing the signs of depression and suicide
Talking about depression and suicide in order to help others become more comfortable in addressing the important topics
Seeking help in every situation
Dr. Moises Baron, assistant vice president of Wellness at USD and a proud supporter of Not On My Watch, agrees that an integral part of the Not On My Watch Campaign is to, as a campus community, "Remove mental health stigmas, because we know there are students who are struggling, but if they are unable to ask for help, then they deal with it in silence. Asking for help is okay."
The Not On My Watch Campaign wants to empower self-help seeking behavior, where students know that it is both okay, and expected, that one asks for assistance when it is needed.
At USD alone, over 12.5 percent of students utilize the USD Counseling Center for a variety of concerns, all of which the counseling staff are prepared to aid. If our fellow Toreros are asking for assistance when they need it, we can ask for assistance too.
Dr. Baron also said that there are no circumstances in which it is silly or out of the question to request assistance. Fifty-six percent of students report that at one point during the year they have a time where they feel lonely — this means, at least one in two students experience this feeling of loneliness. At any given time, one student could need your assistance.
Dr. Baron said, "Feeling lonely does not mean that you have a depression, but is instead a shared experience felt by many students that can be addressed and supported in a personal way," much like stress, where well over half of our fellow Toreros report feeling more than average stress levels.
Reaching out for assistance when pressed with concerns about stress and loneliness are exactly where the values of USD's Not On My Watch Campaign begins. No situation is ever too small to ask for assistance. A part of self-help seeking behavior is knowing when you as an individual need additional care and then reaching out for it, because the hand on the other side will be extended.
Dr. Baron says, "Friends should applaud self-help seeking behavior. It is a sign of strength to be able to seek assistance, and a way that more of our students can find out about the assistance available to them at all times," and this is where all of us can make a large impact.
The conversations around depression and suicide awareness can be challenging but Associated Students Director of Wellness and Sustainability Avery Nickerson said, "These conversations save lives and spread awareness, potentially helping someone through their struggle with suicidal thoughts or other mental illness. The conversation may be uncomfortable, but it will be worth it." There are also QPR (Question Persuade Respond) trainings that specifically assist people in how to create a conversation around these topics. Look out for training dates -- there will be one on Friday, October 25.
Later in the semester, USD is hosting National Survivors of Suicide Day in the Institute for Peace & Justice. This will be a place for people to hear stories, share stories, and move forward together. Next semester, USD will host its own Suicide Prevention 5K walk/run, which will be a fun way for the USD community to provide support.
What is most important about Not On My Watch week, said Nickerson, is that, "students need to know it is not a one week, or a video contest, or even just a semester-long event; this is part of the USD experience." Suicide and depression prevention and awareness is a continual process, and the greatness of our campus will not grow in one single week.
Recently, USD received a $300,000 grant from the Substance Abuse and Mental Health Services Administration to implement even greater comprehensive prevention programs, educational trainings and interventions, and to propel ongoing awareness of depression, suicide, and other mental health concerns even further.
USD is unique in the sense that all of its departments and offices are integrated and that does not happen at very many universities. Here at USD, any of the departments can refer to other departments for additional support in student concerns. Dr. Baron has assured that a portion of the grant will go towards fostering greater training, education and correspondence among Residential Life, Athletics, Student Affairs, Student Leaders, University Ministry, and the Wellness staff.
With all the bustling work being done by the Center for Health and Wellness Promotion, Associated Students, Dr. Moises Baron, and Avery Nickerson, along with all of the professional staff and student leaders behind these wellness initiatives, there is still work to be done. We as a student body need to implement these initiatives: reach out to your friends and fellow Toreros who seem like they may be struggling a bit, address suicide and depression because it can save someone's life, be aware of all the great resources the campus has to offer both nationally and in the greater community, and seek that assistance when it is needed both for others and for yourself.
Let's work hard to make our university a home to every Torero.