#GoBlueOrGoHome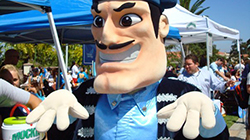 Homecoming Spirit Week is finally here, Toreros. And this year it is going to be bigger, better, and blue-er than the last. How is this possible? Well, Jordan Lemoine, Torero Program Board Spirit and Traditions Coordinator, has worked hard to make sure Homecoming Spirit Week is the best yet. He decided to double-up on the number of Spirit Week events to add twice the spirit.
"We want to give students more opportunities to participate in building Torero spirit and tradition," he said. "Hopefully, this will intensify the competition and bring some intrigue into who will win the Spirit Trophy!" He also decided this year's Homecoming theme, Go Blue Or Go Home. Jordan came up with this theme when he started considering our Torero Pride here at USD. He wanted to put an emphasis on giving the students an ultimatum on our spirit. "It's time for students to finally band together and create the spirit that we're capable of instead of having it wasted as unused potential," he said.
How can students get into the Torero spirit? A simple way is to participate in Associated Students and Torero Program Board's first ever Instagram competition. AS and TPB have teamed up with the College of Arts and Science, University Relations, Torero Life, and Athletics to put on this social media contest. Just snap your most spirited photo during Homecoming Spirit Week and share it on Instagram – but you must tag @usd_associatedstudents and use the tag the Instagram photo, #GoBlueOrGoHome. The first place winner receives a $150 Visa gift card, second place gets a $100 gift card to the Torero Store, and third place will win a $50 gift card to Baked Bear.
Another way you can show your Torero pride is by attending the events TPB will be putting on throughout the week. One of the week's biggest events will be the kickoff of Spirit Week on Monday from 1 p.m. - 2:30 p.m. at the Student Life Pavilion Plaza Mayor. This will be the first opportunity for students to see the SLP windows painted with a giant image of Diego Torero for Spirit Week. There will also be free Sprinkles cupcakes, as well.
The "Go Blue Fun Run" is another big event that TPB is putting on for Homecoming Spirit Week. This run will begin at 10 p.m. on Wednesday night at the SLP Plaza Mayor, and TPB will be handing out blue glow sticks to runners that can use the glow sticks to light up the campus in electric blue pride.
Did we mention the Spirit Trophy? Student organizations can compete for the Spirit Trophy by participating in all of the Spirit Week events. When student organization members go to TPB's events, they sign in on behalf of their student organization. Signing in will earn the student organization points toward getting their name on the Spirit Trophy and winning a surprise event exclusive to the organization!
Lastly, do not miss out on the Big Blue Bash Festival and Concert on Friday night with this year's Homecoming concert featuring Young The Giant. The Big Blue Bash will begin at 6 p.m. on Torero Way, and will include free food, carnival games, and more for all Toreros. Also during the Big Blue Bash, seniors (21+) can check out the Welcome Party on the School of Law parking lot to mingle with fellow seniors and alumni.
We'll see you there, Toreros, and remember, Go Blue Or Go Home!