Toreros Kick-Off the New Academic Year with Plenty of Spirit and Fun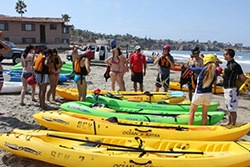 Welcome Toreros!
Are you ready for the 2013 - 2014 year? What better way to get to know your community or settle back into your USD routine than participating in Torero Welcome Week 2013! All Welcome Week 2013 events are open to new and returning students.
This year's Torero Welcome Week will include awesome on-campus events such as: free movies under the stars, concerts at noon in front of the Student Life Pavilion (known as "Nooners" at USD), a pool party, BLUE (an EDM Festival), Glow-In-The-Dark recreation games like dodgeball and frisbee, Torero football games and tailgates, our annual Mass of the Holy Spirit, and so much more.
Torero Welcome Week also features exciting events off-campus: Target Back to School Night (shop at a local Target store after hours. This is open exclusively for the USD community), trips to local farmer's markets, a San Diego Padres game, a night of spoken word at Elevated, beach events and much more. The Torero Program Board is also sponsoring discounted tickets to local concerts featuring Carly Rae Jepsen and Rascal Flats.
The best part? Most of these events are free to all Toreros and are a great way to meet other Toreros and even explore the local San Diego community. With all of these events going on, many offices and departments are sponsoring open house days so that you can explore many of the resources available to you on campus.
The biggest open house of all is the Alcala Bazaar (September 10 from 11:30 a.m. – 2:30 p.m.), our annual street fair featuring all undergraduate clubs and organizations, on-campus departments, and vendors from the San Diego community with special deals just for you.
Throughout Welcome Week, you can also participate in fun-filled fitness opportunities – yoga, a group bike ride, or group jog through Tecolote Canyon – to regain energy and be ready for the next event.
So, grab a friend or make some new ones, and join us at these events to celebrate the beginning of your new year at USD. See the full Torero Welcome Week 2013 schedule.
When you attend the events, don't forget to post how much fun you are having and tag #torerowelcomeweek!