Susan Hack '89 (JD) and Dana Grimes '07 (JD) to be honored at annual Red Boudreau Trial Lawyers' Celebration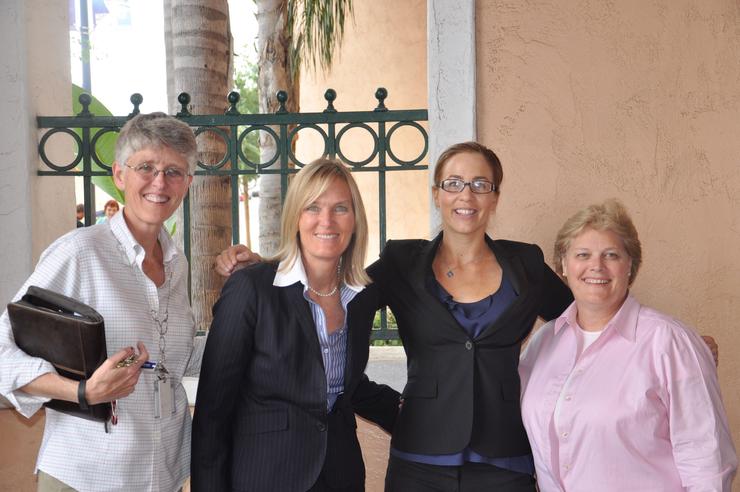 San Diego (July 23, 2013) – Susan Hack, '89 (JD), partner at Higgs Fletcher & Mack, will be presented with the prestigious Daniel T. Broderick III award at the 29th annual Red Boudreau Trial Lawyers' Celebration on August 2, 2013.
The award is given to a lawyer in private practice with a substantial body of civil litigation experience, who epitomizes the highest principles of civility, integrity and professionalism.
"This is an incredible honor for me," said Hack. "The award reminds us of the spirit embodied by Dan Broderick himself, a spectacular trial attorney and a man who inspired our legal community."
Hack joined Higgs Fletcher & Mack in 1989 and became a partner in 1996. She heads the firm's Diversity Committee that has given over $30,000 in scholarships over the last three years, and leads the education side of its Professional Development Committee. In 2002, Hack was a recipient of the YWCA's Tribute to Women & Industry (TWIN) Award and the San Diego County Bar Association's annual Service Awards for Service to Legal Education in 2011. She serves as a mentor to new lawyers and law students for Lawyers Club helping to advance the status of women in the law and in society and recently was selected as one of 20 women in San Diego by San Diego Metro Magazine with the "Women Who Impact" award. Hack practices general tort and business litigation, handling primarily business disputes, personal injury, premises liability, professional medical and business negligence as well as product liability matters.
"The event that surrounds the award, the annual Red Boudreau Dinner, holds significance because it raises funds for St. Vincent de Paul, a charity that alleviates the suffering of homeless children and their families. It is a great cause that we believe in and support and are all happy to rally behind," commented Hack.
The Red Boudreau Event started in 1984 as a tribute to the late Red Boudreau, a highly regarded trial lawyer. This event honors his memory while benefiting St. Vincent de Paul Village, a charity that Mr. Boudreau supported throughout his life in San Diego.
"In the spirit of compassion that is Red Boudreau's legacy, we appreciate the legal community supporting us on this night," said Ruth Bruland, Executive Director of St. Vincent de Paul Village. "Nearly 40 percent of the homeless population here is made up of families, and three out of four children in those families are elementary-school aged. At St. Vincent de Paul Village we are working harder than ever to alleviate the suffering; these attorneys are helping us to do just that."
Another award presented at the event is the Honorable David R. Thompson New Lawyer Award, presented to an attorney with less than seven years in practice. "Judge David R. Thompson's commitment to fairness, civility, and professionalism is legendary, and it is a great honor for me to receive this award," said Dana Grimes '07 (JD), the recipient of this year's New Lawyer Award. Grimes, an attorney at Grimes & Warwick, was selected based on her strong commitment to the administration of justice and her service to the legal profession.
"It is delightful to see our legal community join together for a greater good," noted Hack. "I am proud to be a part of a compassionate community and truly humbled to receive this award."
About the University of San Diego School of Law
Recognized for the excellence of its faculty, curriculum and clinical programs, the University of San Diego (USD) School of Law enrolls approximately 900 Juris Doctor and graduate law students from throughout the United States and around the world. The law school is best known for its offerings in the areas of business and corporate law, constitutional law, intellectual property, international and comparative law, public interest and taxation.
USD School of Law is one of the 81 law schools elected to the Order of the Coif, a national honor society for law school graduates. The law school's faculty is a strong group of outstanding scholars and teachers with national and international reputations and currently ranks 23rd worldwide in all-time faculty downloads on the Social Sciences Research Network (SSRN). The school is accredited by the American Bar Association and is a member of the Association of American Law Schools. Founded in 1954, the law school is part of the University of San Diego, a private, nonprofit, independent, Roman Catholic university chartered in 1949.