Professor Miranda McGowan Comments on Landmark Supreme Court Cases for Local Media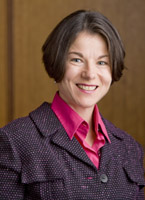 San Diego (June 27, 2013) – University of San Diego School of Law Herzog Endowed Scholar and Professor of Law Miranda McGowan was quoted today in the San Diego Union-Tribune and the Daily Transcript in articles that summarized Wednesday's U.S. Supreme Court rulings on two landmark marriage-equality cases.
The court found part of the Defense of Marriage Act unconstitutional and allowed to stand a lower court ruling that struck down California's Proposition 8 (Prop. 8) ballot initiative, which defines marriage as between one man and one woman.
The articles report the reaction to the high court's decisions from around San Diego County and what's next for same-sex couples awaiting their first chance to be legally married in California since the passing of Prop. 8 in 2008.
"At the end of the day, the fact of the matter is gay men and women in California, the most populous state in the union, will be able to marry and that is a huge deal," McGowan stated in the Union-Tribune article.
"The key to the Prop. 8 decision was the chief justice, and I think he wrote an opinion that Scalia could love," she said in the Daily Transcript article. "The chief justice is really crafty. Like in the health care cases, he found a way to have his cake and eat it, too."
Miranda McGowan teaches and writes in the areas of employment discrimination, constitutional law, and race and gender identity at the University of San Diego School of Law.
Read the San Diego Union-Tribune article online.
Read the Daily Transcript article online.
About the University of San Diego School of Law
Recognized for the excellence of its faculty, curriculum and clinical programs, the University of San Diego (USD) School of Law enrolls approximately 900 Juris Doctor and graduate law students from throughout the United States and around the world. The law school is best known for its offerings in the areas of business and corporate law, constitutional law, intellectual property, international and comparative law, public interest law, and taxation.
USD School of Law is one of the 81 law schools elected to the Order of the Coif, a national honor society for law school graduates. The law school's faculty is a strong group of outstanding scholars and teachers with national and international reputations and currently ranks 23rd worldwide in all-time faculty downloads on the Social Sciences Research Network (SSRN). The school is accredited by the American Bar Association and is a member of the Association of American Law Schools. Founded in 1954, the law school is part of the University of San Diego, a private, nonprofit, independent, Roman Catholic university chartered in 1949.