In Memoriam: Professor of Law Emeritus Joseph J. Darby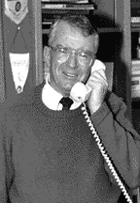 San Diego (June 20, 2013) – University of San Diego (USD) School of Law Professor of Law Emeritus Joseph J. Darby passed away on June 13, 2013, after a battle with Amyotrophic Lateral Sclerosis (ALS) or Lou Gehrig's disease. He was 82.
Professor Darby received his BS degree from Georgetown University and his JD degree from Fordham University Law School. He also earned MA and PhD degrees from Columbia University as well as a Doktor Juris (Dr. iur.) degree from the University of Cologne in Germany.
In 1965, Darby joined the law faculty at USD, where he taught and wrote in the areas of international and comparative law for more than 40 years. During that time, he also taught as part of the International Faculty of Comparative Law in Strasbourg, France and lectured by invitation at universities in Austria, Belgium, China, France, Germany, Israel, Poland and South Africa. In 1996, Darby received a Fulbright grant to teach American law in Russian to law students, prosecutors, attorneys and judges in Moscow and several provincial cities in the Russian Federation.
In December 2012, the law school established the Darby Endowed Scholarship Fund with a generous gift from the Avery-Tsui Foundation at the request of Natasha Wong, '04 (LLM). The gift was made in recognition of Darby's outstanding scholarship and inspirational impact on law students. The annual recipient, known as the Darby Scholar, will be an LLM student with an interest in international law.
Darby is survived by his wife of 49 years, Ursula, and his four children: Christiane Darby of San Diego; Gabriella Hennington of Spokane, Washington; Thomas Darby of Annapolis, Maryland; and Heidi Zadeyan of La Jolla.
A funeral Mass is scheduled for Friday, June 28, 2013, at 10 a.m. at the Mission Basilica San Diego de Alcalá, 10818 San Diego Mission Road, in San Diego. In lieu of flowers, donations can be made to the ALS Foundation, In Memory of Joseph Darby, 7920 Silverton Ave., Suite E, San Diego, CA 92126, or online at http://www.alsasd.org.