Minghao Chuang: Evolution of a Writer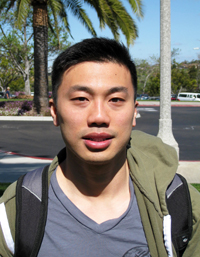 San Diego (March 27, 2013) – Minghao Chuang, '14 (JD), is always looking to improve his legal skills, especially his writing. "Finding the opportunity to improve one's writing is part of evolving as a person; the process always continues and there is always room for change.
"When Chuang was 13, he moved with his family from Taiwan to Monterey, California, speaking little English. He was continually learning about the intricacies of the English language, from reading books written by John Steinbeck, a Monterey native, to drafting reports for a venture capital firm in Los Angeles.
While at USD School of Law, Chuang found his first-year writing class to be extremely helpful. "My legal writing professor Wendy Garewal taught us how to synthesize rules and construct effective sentences. She always emphasized the importance of supporting a proposition with facts, law or public policy." As a result of his hard work and dedication to improving his writing, Chuang was selected as a fellow by the San Diego County Bar Association and placed with a prominent firm in San Diego as a summer law clerk. To apply for this prestigious program, Chuang prepared a five-page memo and went through two rounds of interviews. While clerking at the firm during the summer, Ming took night classes through University of California at San Diego's Extension Program, polishing his grammar and editing skills.
"My summer at the firm helped me to gain real-world experience. I continued to be proactive. For example, when I completed a project, I didn't wait for someone to hand me another assignment. Instead, I went to every single office on my floor asking for work." One of his projects at the firm involved preparing materials for an employment law seminar to be held in the fall. "My supervisors complimented me on my writing, saying it was concise and clear. The firm invited me to continue working for them in the fall semester."
Chuang continues to find opportunities to hone his writing. He recently completed a comment for the San Diego Journal of Climate & Energy Law, and he is now working as a teaching assistant for Professor Elisa Brandes' legal writing and research class. "Working as a teaching assistant is a great way to continue to sharpen my research and editing skills, and it is also my way of contributing to the USD law community."
Chuang is also externing in the federal district court where he has an opportunity to observe the writing and advocacy skills of experienced lawyers who come before the judge. "One of the most important lessons that I have learned from the externship is to be prepared. Being prepared shows judges, opposing counsel, and clients that you are a capable attorney."
About the University of San Diego School of Law
Recognized for the excellence of its faculty, curriculum and clinical programs, the University of San Diego (USD) School of Law enrolls approximately 900 Juris Doctor and graduate law students from throughout the United States and around the world. The law school is best known for its offerings in the areas of business and corporate law, constitutional law, intellectual property, international and comparative law, public interest and taxation.
USD School of Law is one of the 81 law schools elected to the Order of the Coif, a national honor society for law school graduates. The law school's faculty is a strong group of outstanding scholars and teachers with national and international reputations and currently ranks 23rd worldwide in all-time faculty downloads on the Social Sciences Research Network (SSRN). The school is accredited by the American Bar Association and is a member of the Association of American Law Schools. Founded in 1954, the law school is part of the University of San Diego, a private, nonprofit, independent, Roman Catholic university chartered in 1949.