Battle of the Brains Student Squad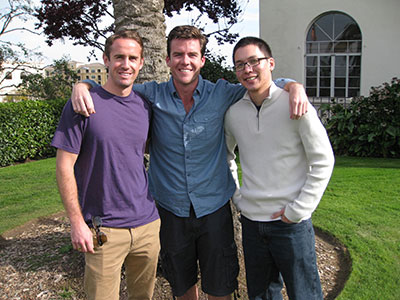 San Diego (April 30, 2013) – The law school's annual Battle of the Brains, sponsored as a charity fundraiser by the Diversity Committee, pits students against faculty in a live trivia competition. The two three-person student teams that scored highest on a written test in the fall went head-to-head on March 14, 2013, in the Writs, with the winning team going on to face the top trio of professors, "Diminished Faculties."
In the final, hosted by advisor to the Diversity Committee Professor Junichi Semitsu, fearsome competitors Pete "The Wildcard" Estes, Sam "The Implication" Reep, and Jason "Spaghetti Day Man" Yee made a strong showing. (All three went on to receive their JD degrees in May.) Their squad, called "The Original Kitten Mittens" in reference to an episode of the television show "It's Always Sunny in Philadelphia," has been strengthening its information-recall muscles for the last three years by participating in trivia night competitions at area bars. "We each have our specialized niches of expertize."
"Unfortunately, we lost in what was kind of a reprise of last year's competition, where we also lost in the final round. It really hurt us that Professor Barry was on the faculty team: he was amazing." Readers who were unable to attend the competition might want to tackle the final question, which no one (not even Professor Barry) could answer: "What Finnish video game company invented 'Angry Birds?'"
About the University of San Diego School of Law
Recognized for the excellence of its faculty, curriculum and clinical programs, the University of San Diego (USD) School of Law enrolls approximately 900 Juris Doctor and graduate law students from throughout the United States and around the world. The law school is best known for its offerings in the areas of business and corporate law, constitutional law, intellectual property, international and comparative law, public interest and taxation.
USD School of Law is one of the 81 law schools elected to the Order of the Coif, a national honor society for law school graduates. The law school's faculty is a strong group of outstanding scholars and teachers with national and international reputations and currently ranks 23rd worldwide in all-time faculty downloads on the Social Sciences Research Network (SSRN). The school is accredited by the American Bar Association and is a member of the Association of American Law Schools. Founded in 1954, the law school is part of the University of San Diego, a private, nonprofit, independent, Roman Catholic university chartered in 1949.