In Memoriam: Professor C. Hugh Friedman, 1931-2013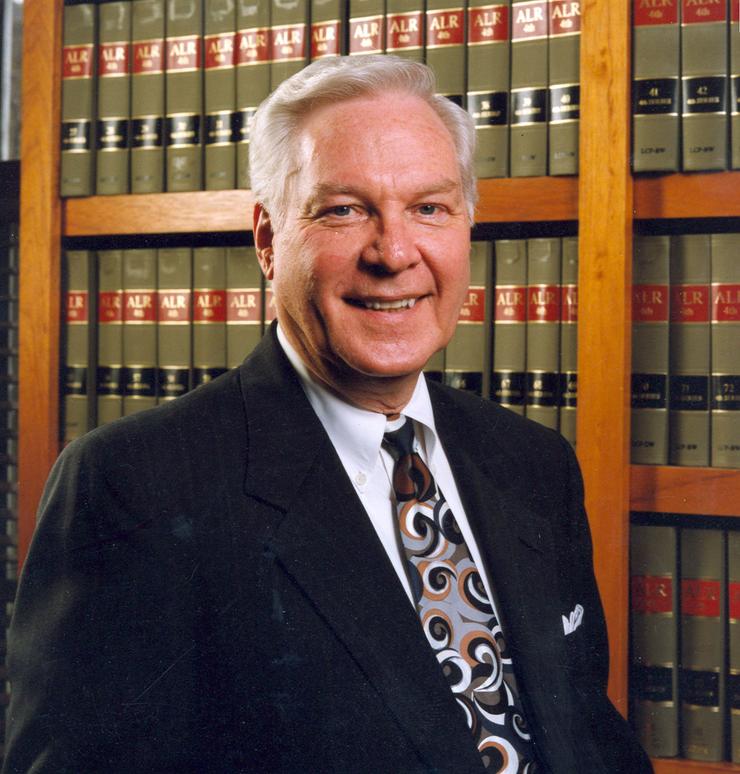 San Diego (January 30, 2013) - Casil Hugh Friedman, a prominent San Diego business attorney, legal advocate and the University of San Diego (USD) School of Law's longest-standing faculty member, passed away on Jan. 29 due to a prolonged illness. He was 81.
"Hugh's passing is a terrible loss both to USD School of Law and the San Diego community," said Dean Stephen C. Ferruolo. "During his 55-year association with USD School of Law, Hugh was beloved by his faculty colleagues and inspired generations of students. As a lawyer, he compiled an exemplary record of service at the local, state and national level, always giving generously of his time and talents. Hugh was a trusted advisor to his clients, a great teacher and mentor, a dedicated husband, father and grandfather, and a talented jazz musician—in all a wonderfully vibrant man. Hugh lived a very rich life and leaves an enduring legacy."
Friedman, a graduate of Yale University in 1953 and Stanford Law School in 1956, began his legal career as a deputy attorney general for the state of California. In 1958, he moved to San Diego to become in-house corporate counsel with Westgate-California Corp. He then practiced business law as a senior partner with Friedman, Kahan, Dysart & Frasier.
"I always thought San Diego was a great place—I thought it would be perfect to raise a family and build a career," he said in a November 2012 Q&A interview with current USD law students Justin Brandt and Phillip McGill for the February 2013 debut issue of a student law publication, California Business Practice (CBP).
Friedman, who was married to former Congresswoman and 1970 USD law alumna Lynn Schenk, began his association with the law school in 1958 when he taught night classes. He became a full-time law faculty member in 1977 and taught and wrote on corporate, business planning and securities law. He taught the introductory meeting of his Business Planning class for the 2013 law spring semester two weeks ago.
"I never set out to be a law teacher," said Friedman in an October 2008 interview with USD Magazine as the university honored his 50th year as an educator. "I wanted to be a lawyer. I felt law was society's best way of resolving conflicts and controversies of humankind in a bloodless way."
Friedman had many publications and articles on education and law, but perhaps his greatest contribution was his two-volume California Practice Guide: Corporations, which was published in 1984 and printed its 28th edition in 2012. It's considered a "standard desk-reference for practitioners," as Brandt and McGill described it.
Condolences from USD law alumni have been pouring in since Ferruolo announced Friedman's passing.
"Hugh taught me Torts in 1977, a subject I learned well enough to become a USD tutor. He was an enormously gifted lawyer and teacher whom I will remember and revere," said Denny Shaw '80 (JD).
"Professor Friedman was one of the best ever," said Sharon Prince '72 (JD). "He will be always remembered as one of the greats."
Friedman's legal expertise provided him many opportunities to travel outside of San Diego. He was a visiting professor at Loyola University and American University and lectured in England, France, Japan, Hungary and Singapore. He frequently gave presentations on corporate governance issues to state and local bar associations and law firms, and testified as a qualified expert in state and federal court litigation.
Other key achievements included an appointment by former President Bill Clinton to the White House's Conference on Small Business Commission and one by former California Governor Gray Davis to the California State Air Resources Board. Friedman was a former director for the San Diego County Bar Foundation and a member of the American Bar Association, International Bar Association and the American Law & Economics Association.
Friedman received an honorary LLD from USD in 1976, which was quite memorable. Don Weckstein, the law dean at the time, called Friedman to serve as a late replacement when President Gerald Ford canceled his scheduled appointment as USD's Law Commencement speaker.
"He had promised [them] a president," quipped Friedman, who was president of the San Diego County Bar Association at that time.

He was active in the local community in leadership and supporting roles, including the American Red Cross, Boys Club of San Diego, Civic Light Opera Association, San Diego Hospice, American Heart Association and the Eagle Scouts Alumni Association. He also was part of a group that successfully brought the San Diego Padres from the Pacific Coast League into Major League Baseball as a 1969 National League expansion team. Just last season, Friedman threw out a ceremonial first pitch ) before a Padres game at Petco Park.
One of Friedman's top non-law passions was being an accomplished jazz clarinet musician, an instrument he learned to play at age 10.
"It introduced me to a world I otherwise would have never encountered. It's an important avocation. When playing jazz, I'm in the moment and don't think about anything else," he said in the CBP article.
His wife, Lynn, and children Paul, Greg and Marcia survive Friedman.
A public memorial service will take place at 11 a.m. on Thursday, Jan. 31 at Congregation Beth Am, 5050 Del Mar Heights Rd., in San Diego. In lieu of flowers, food or gifts, the family requests charitable contributions go to: The C. Hugh Friedman Scholarship at USD School of Law; Center for Civic Education; The Leukemia & Lymphoma Society (San Diego) and Congregation Beth Am.
Make a contribution to the Friedman scholarship online. When giving, be sure to select the button that reads, "Click here for a list of designation options" and then select the C. Hugh Friedman Endowed Scholarship.
About the University of San Diego School of Law
Recognized for the excellence of its faculty, curriculum and clinical programs, the University of San Diego (USD) School of Law enrolls approximately 900 Juris Doctor and graduate law students from throughout the United States and around the world. The law school is best known for its offerings in the areas of business and corporate law, constitutional law, intellectual property, international and comparative law, public interest and taxation.
USD School of Law is one of the 81 law schools elected to the Order of the Coif, a national honor society for law school graduates. The law school's faculty is a strong group of outstanding scholars and teachers with national and international reputations and currently ranks 23rd worldwide in all-time faculty downloads on the Social Sciences Research Network (SSRN). The school is accredited by the American Bar Association and is a member of the Association of American Law Schools. Founded in 1954, the law school is part of the University of San Diego, a private, nonprofit, independent, Roman Catholic university chartered in 1949.