Professor Shaun Martin Comments on Supreme Court's Decision to Review Prop. 8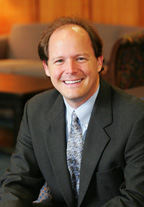 San Diego (December 8, 2012) - Today, University of San Diego School of Law Professor Shaun Martin was quoted in a San Diego Union-Tribune article, "Justices to Rule on Gay Marriage."
Shaun Martin provided expert legal commentary about the U.S. Supreme Court's decision to review Proposition 8, a 2008 state constitutional amendment that added a new provision stating only marriage between a man and a woman is valid or recognized in California.
Typically, the state argues on behalf of voter-approved laws. In this case, then-Attorney General Jerry Brown, now governor, opted not to defend Proposition 8. The measure's proponents got a legal ruling allowing them to intervene and take the case to the U.S. Supreme Court.
If the Supreme Court decides the proponents don't have standing, Proposition 8 would fall and same-sex marriage would again be legal. But that would probably apply only in California, allowing the justices to sidestep the bigger question.
"Resolving the case on standing grounds is a way to avoid issuing what will be one way or the other a deeply controversial decision," said Martin
Read the full San Diego Union-Tribune story online.
About the University of San Diego School of Law
Recognized for the excellence of its faculty, curriculum and clinical programs, the University of San Diego (USD) School of Law enrolls approximately 900 Juris Doctor and graduate law students from throughout the United States and around the world. The law school is best known for its offerings in the areas of business and corporate law, constitutional law, intellectual property, international and comparative law, public interest and taxation.
USD School of Law is one of the 81 law schools elected to the Order of the Coif, a national honor society for law school graduates. The law school's faculty is a strong group of outstanding scholars and teachers with national and international reputations and currently ranks 23rd worldwide in all-time faculty downloads on the Social Sciences Research Network (SSRN). The school is accredited by the American Bar Association and is a member of the Association of American Law Schools. Founded in 1954, the law school is part of the University of San Diego, a private, nonprofit, independent, Roman Catholic university chartered in 1949.