Professor Partnoy Interviewed on 60 Minutes About Muppet Manifesto Author's New Book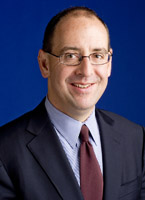 San Diego (October 22, 2012) - On Sunday, University of San Diego George E. Barrett Professor of Law and Finance Frank Partnoy was interviewed by Anderson Cooper on 60 Minutes. Partnoy provided expert commentary on former Goldman Sachs investment banker Greg Smith's new book, titled Why I Left Goldman Sachs: A Wall Street Story. The book was released today.
When Goldman Sachs would not speak on camera about Smith's book, 60 Minutes producers turned to Partnoy for expert commentary. Below is an excerpt:
"Anderson Cooper: We spoke with Frank Partnoy, a highly respected professor of law and finance at the University of San Diego and a former derivatives salesman himself. He told us he didn't think it was fair to single out Goldman Sachs.
Frank Partnoy: If we look back…at Wall Street firms that were responsible for the financial crisis—the firms that in 2007 had these huge exposures to subprime mortgages—it's not Goldman Sachs. If every bank had been like Goldman Sachs, we would not have had a financial crisis."
Read or view the entire 60 Minutes report online.
Greg Smith is best known for his well-publicized resignation and parting shot to Goldman Sachs in a New York Times op-ed piece titled, "Why I Am Leaving Goldman Sachs." The March 14, 2012 op-ed, more popularly known as the "Muppet Manifesto," claimed the company's employees knowingly misled their clients in order to make more money for themselves, calling the financial services company's culture "toxic and destructive."
"Over the last 12 months I have seen five different managing directors refer to their own clients as "Muppets," sometimes over internal email," wrote Smith.
Partnoy was interviewed on a March 15 broadcast of CBS This Morning to discuss the uproar caused by this public resignation.
About the University of San Diego School of Law
Recognized for the excellence of its faculty, curriculum and clinical programs, the University of San Diego (USD) School of Law enrolls approximately 900 Juris Doctor and graduate law students from throughout the United States and around the world. The law school is best known for its offerings in the areas of business and corporate law, constitutional law, intellectual property, international and comparative law, public interest and taxation.
USD School of Law is one of the 81 law schools elected to the Order of the Coif, a national honor society for law school graduates. The law school's faculty is a strong group of outstanding scholars and teachers with national and international reputations and currently ranks 23rd worldwide in all-time faculty downloads on the Social Sciences Research Network (SSRN). The school is accredited by the American Bar Association and is a member of the Association of American Law Schools. Founded in 1954, the law school is part of the University of San Diego, a private, nonprofit, independent, Roman Catholic university chartered in 1949.