National Media Taps USD School of Law Professor Frank Partnoy for Expert Opinion about JP Morgan Chase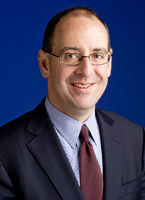 San Diego (May 11, 2012) - University of San Diego (USD) School of Law George E. Barrett Professor of Law and Finance Frank Partnoy was once again tapped by national media outlets across the country— including the New York Times and Bloomberg BusinessWeek—to provide expert commentary about JPMorgan Chase's $2 billion trading loss disclosed on May 10, 2012.
The article discusses how the missteps that led to JPMorgan Chase's recent loss underscores how bank "hedges" are often risky bets that large banks should not take. Many banking and finance experts believe that JPMorgan's loss serves as a reminder that there is still a need for regulators to establish tougher regulations on banks.
Partnoy, who supports tighter rules for the country's banks, said in today's New York Times, "This is a crucial moment in the debate. It couldn't have come at a worse time for JPMorgan Chase. After everything we went though in the financial crisis, the fact that something of this magnitude could happen shows that the reform didn't do the job."
Click here to read "A Shock From JPMorgan is New Fodder for Reformers" in the New York Times.
Click here to read "JPMorgan Loses $2 Billion on Unit's 'Egregious Mistakes'" in Bloomberg BusinessWeek.
About the University of San Diego School of Law
Recognized for the excellence of its faculty, curriculum and clinical programs, the University of San Diego (USD) School of Law enrolls approximately 900 Juris Doctor and graduate law students from throughout the United States and around the world. The law school is best known for its offerings in the areas of business and corporate law, constitutional law, intellectual property, international and comparative law, public interest and taxation.
USD School of Law is one of the 81 law schools elected to the Order of the Coif, a national honor society for law school graduates. The law school's faculty is a strong group of outstanding scholars and teachers with national and international reputations and currently ranks 23rd worldwide in all-time faculty downloads on the Social Sciences Research Network (SSRN). The school is accredited by the American Bar Association and is a member of the Association of American Law Schools. Founded in 1954, the law school is part of the University of San Diego, a private, nonprofit, independent, Roman Catholic university chartered in 1949.