Father Greg Boyle: No Kinship, No Difference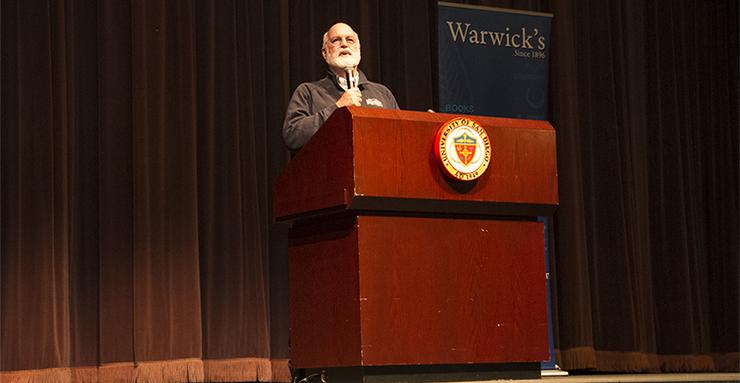 Father Greg Boyle, a Jesuit priest and founder of Homeboy Industries, a nonprofit organization that is the largest gang member intervention, rehabilitation and re-entry program in the world, can still make an audience laugh — a lot.
Boyle, a best-selling author of Tattoos on the Heart, was the USD College of Arts and Sciences and Warwick's Books Illume Series speaker Thursday and he was on campus to promote his new book, Barking to the Choir: The Power of Radical Kinship. He did sprinkle in several funny anecdotes, but the serious message he had about creating a better world through kinship was no laughing matter.
"Pope Francis invites us all the time to stand with the margins because that's the only way the margins will disappear — if we all choose to stand there. We stand with the poor, the powerless, the voiceless; we stand with those whose dignity has been denied; with those whose burdens are more than they can bear; We stand with the easily despised and those who've been left out; we stand with the demonized so that the demonizing will stop; and with the disposables so that the day will come when we stop throwing people away," Boyle offered.
"What we've come to see as a community is that no kinship, no peace; no kinship, no justice; no kinship, no equality," Boyle stated. "No matter how singularly focused we may well be on those worthy goals, things can't happen unless there is some undergirding sense that we belong to each other. How can we stand against forgetting that?"
Boyle, who has worked closely with gang members for 34 years, has been able to, with the help of many others, grow Homeboy Industries into a juggernaut of community success with programs and social enterprise businesses to help former gang members gain job and life skills that can help them lead more productive lives.
"Homeboy Industries," according to its website, "provides hope, training, and support to formerly gang-involved and previously incarcerated men and women allowing them to redirect their lives and become contributing members of our community. Each year over 10,000 former gang members from across Los Angeles come through Homeboy Industries' doors in an effort to make a positive change. They are welcomed into a community of mutual kinship, love, and a wide variety of services ranging from tattoo removal to anger management and parenting classes. Full-time employment is offered for more than 200 men and women at a time through an 18-month program that helps them re-identify who they are in the world, offers job training so they can move on from Homeboy Industries and become contributing members of the community — knowing they count!"
Two "Homies" Work Toward Life Improvement
On Thursday, Boyle spoke for 35 minutes after he was introduced by USD Theology and Religious Studies Department Chair and Professor Emily Reimer-Barry and two of Boyle's "Homies," Marcos and Jason, briefly shared their stories.
Marcos, who said he comes from generations of gang members in his family, is "grateful" for Homeboy Industries and that his exposure to it enabled him "to learn to love myself." He's working toward a high school diploma, is removing tattoos, and wants to be a better person for his two children who are young honor students. His son sent him a letter last year that fuels his determination to change his life. "I'm just trying to better myself. I just want to be part of the community."
Jason, in gangs since age 14, served 15 years of an 18-year sentence and was released just five months ago. While he was in prison, he learned about Homeboys Industries through a documentary. Once he was released from jail, he came to Homeboy Industries and he's making progress. "I believe the dark days I went through allow me to see the light that I see today. I no longer wear blinders. I'm reaching for the stars. I told myself I'd never fly with the pigeons. I want to soar with the eagles."
Learning That We're One
Boyle weaved in different scenarios for how people are affected when they want to connect with those who live on the margins. They believe it's a chance for their voices to be heard. That love and tenderness, instead of shame and disgrace, is a powerful force to unlock the true self. Going toward those on the margins, Boyle truly believes, helps us understand the importance of kinship and a mutual need for belonging.
"We don't go to the margins to make a difference," he said. "We go to the margins so that the folks at the margins make us different."
— Ryan T. Blystone