Creating an Equitable Learning Environment - Dr. Channon Miller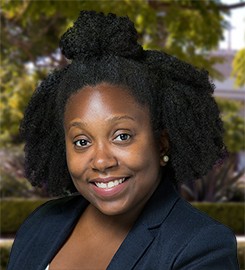 Describe a unique aspect of your everyday perspective that impacts your teaching.
I arrived here to University of San Diego and the Department of History as a Diversity Post-Doctoral Fellow by way of Boston University where I completed by PhD in American Studies in May of this year. I am teaching African American History this semester, African American Women's History next semester. As these courses suggest, my scholarly interests and expertise revolve around the ways in which raced and gendered mechanisms of oppression have unfolded in black women's lives, their negotiations of these forces, and their modes of grasping social justice. As I navigate academia, I often pause and reflect upon how I got here – the road to this very moment – the road to teaching, studying, and researching the narratives of the uniquely invisible – the road to a fulfilling profession. There was an array of moving pieces that made this career possible – but many of them were my professors. It was a professor, at my undergraduate institution, Trinity College (CT), that told me – an uncertain, self-doubtful, a student of color on a predominantly white campus, and first-generation college student - that I was meant and purposed to be in the academy and that my writing had potential to open doors of knowledge and understanding.
Read the complete interview here
Contact: