Alumni Spotlight: Taylor Simpkins
Alumnus Taylor Simpkins joins world-renowned marine researchers on the Great Barrier Reef
Tuesday, November 21, 2017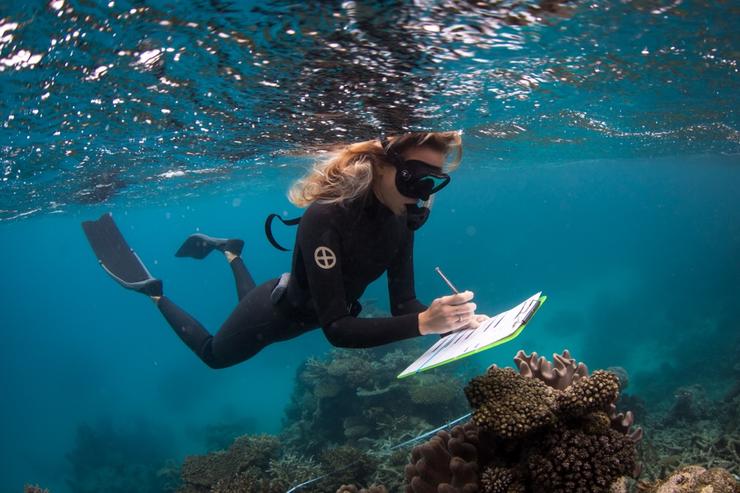 begin quote

Alumnus Taylor Simpkins joins world-renowned marine researchers on the Great Barrier Reef
One of USD Environmental and Ocean Sciences Department's outstanding alumni, Taylor Simpkins, is participating in something extraordinary. On Wednesday, November 15, Taylor set out on an unprecedented 21 day scientific expedition in the Great Barrier Reef along with an international team of world renowned ocean reef experts. As a member of the Great Barrier Reef Legacy (GBR Legacy) crew, she will be assisting other marine biologists in the search for Super Coral. With the aid of GBR Legacy's live, online map tracking tool (https://www.greatbarrierreeflegacy.org/#super-corals) and social media reports (https://www.facebook.com/ReefLegacy/), you can also follow Taylor and the other members of the expedition team as they navigate along the remote, far north Australian coastal reefs. Returning to Port Douglas on Friday December 8th, the GBR Legacy research team will join the press and the public where they will share their findings at a free, open symposium.
Taylor's bio and more about what she's been doing since graduation:
Taylor Simpkins is a marine biologist and educator working on the Great Barrier Reef. She began her involvement in research when she was 11, collecting data over 10 years that showed pre-production plastics were washing up on Southern California beaches via upstream industrial runoff. Taylor completed her Bachelors in Marine Science at the University of San Diego in 2013 and has been working as a marine ecology research assistant, educator, and scientific diver since graduating. Her passion for marine biology has taken her around the world to places like Panama, Baja, and now Australia where she works at Wavelength Reef Cruises, and volunteers for GBR Legacy, the Great Barrier Reef Marine Park Authority, and the Australian Institute of Marine Science. Taylor will begin her masters in marine biology in 2018, and will be further investigating the current threat of coral bleaching on reef systems.