Faculty Spotlight - Justin Grinnell
Tuesday, October 31, 2017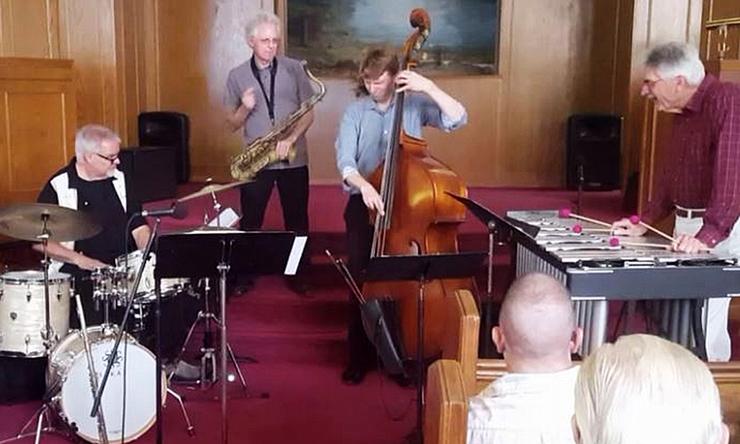 Fall 2017 is off to a productive start for USD Jazz Ensemble Director & jazz bassist, Justin Grinnell. Justin's September and October were filled with teaching, performing, and family time!
The USD Jazz Ensemble, which rehearses every Wednesday evening, has been working hard on putting together an entertaining set of music for their performance in Shiley Theater on Wednesday December 13th. Justin has the 13-member ensemble working on a wide variety of music, from classic swing vocal standards to contemporary instrumental jazz influenced by rock and funk.
Since the beginning of the Fall 2017 semester, Justin has had the opportunity to perform with local jazz heavyweights - Duncan Moore, Jim Plank, Peter Sprague, and Tripp Sprague - and with the Danny Green Trio for a bunch of memorable shows. On October 14th, Justin performed with the Danny Green Trio Plus Strings along with pianist Ines Irawati at Copley Symphony Hall for TEDx, a local TED-like conference that presents live speakers to share "ideas worth spreading." The following week, the trio traveled up to the Bay Area for a three-day mini-tour that culminated with a performance in Oakland for a packed house at The Sound Room.
Most of the time, if Justin isn't teaching or performing, then he's spending time with his wife and two young sons, now five and eight years old. This Halloween the whole family dressed up like skeletons!