USD Honors Feast of All Saints, All Souls, Día de los Muertos Events
Tuesday, October 31, 2017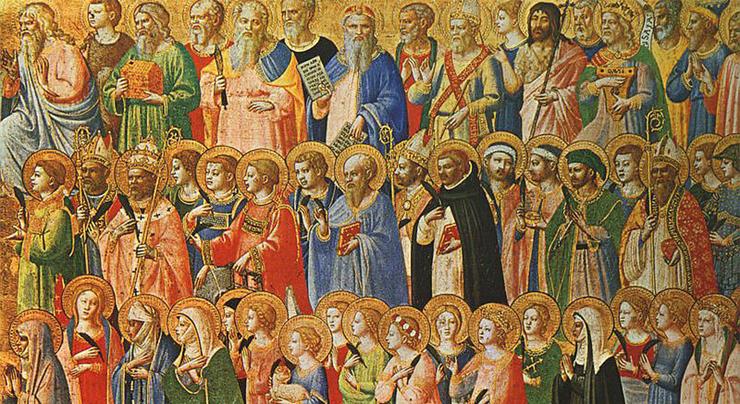 The first few days of November hold very special meaning to many people, both religiously and culturally. At the University of San Diego this week, both aspects will be shown and observed throughout the campus community.
Feast of All Saints, All Souls
At the University of San Diego, Roman Catholic university, Nov. 1 and 2 in the Catholic Church offers celebration and rememberances called the Feast of All Saints (Nov. 1) and the Feast of All Souls (Nov. 2).
Both Founders Chapel and The Immaculata Church will recognize these important dates at their respective masses taking place on both days. Founders Chapel's Nov. 1 masses at 12:15 p.m. and 9 p.m. and The Immaculata's 8 a.m. and 7 p.m. masses, will honor the Feast of All Saints. On Nov. 2, Founders Chapel's 12:15 p.m. mass and The Immaculata's 8 a.m. and 7 p.m. masses, will pay respects to those who have passed away on the Feast of All Souls.
A novena of Masses, for nine consecutive days, will be offered in Founders Chapel at its regularly scheduled liturgies in remembrance of beloved dead.
Remembrance cards are available at Founders Chapel or in the University Ministry office, Hahn University Center 238, On the reverse side of the card, please write the name of the person you would like remembered. During November, the cards will be visible reminders at Founders Chapel altar of our community mindfulness of people who have gone before us. After today, oct. 31, please place the card in the container located in front of the altar of Founders Chapel.
Día de los Muertos (Day of the Dead) Altar Display
In Mexican culture, the first few days of November offer an opportunity to recognize, celebrate and cherish the lives of loved ones who've passed away. At USD, its Communication Studies Department and most notably, Professor Antonieta Mercado, PhD, and her students, will construct and populate an altar with a bevy of colorful artifacts, mementos, decorative items and encourages the campus community to contribute to the shrine that will be up in the Student Life Pavilion's Exhibit Hall space Nov. 1-3. Mercado and students in her Communication Studies 130 (Intro to Media Studies) class will set up the altar display today, Oct. 31, between 5:30 and 7 p.m.
The altar is likely to have its greatest visual representation on Nov. 2 as Mercado has put together a program from 12:30 to 2 p.m. "On the Philosophical Meaning of Death for Indigenous People" will be the topic that guest speaker Odilia Romero, a Zapotec activist, scholar, and leader of F10'B, will share with the audience. Free, fresh bread (pan de muerto from San Diego's Northgate Gonzalez Market) and coffee will be served. At the conclusion of Thursday's talk, the USD Mariachi Ensemble will perform.
The altar will be open to the public through Nov. 3.
Mercado has extended an invitation for anyone in the USD community to contribute to the altar display. Stories, poems, a nicho, cajita, a painting, a drawing or any other meaningful artifact or message will be accepted on Oct. 31. All Mercado asks is that contributing pieces have a name and an email written on them so that these items can be safely returned to the owner.
The display and the program are co-sponsored by the Communication Studies Department, the Office of the Provost, Living Learning Communities' Advocate, Program of Latin American Studies, the Humanities Center and the USD Decolonization Study Group.
Kroc School Students Create Día del los Muertos Altar
Furthermore, a group of USD students in the new Joan B. Kroc School's Master of Arts in Social Innovation program, led by Bianca Alvarado, created an altar display for Día de los Muertos inside the Kroc Institute for Peace and Justice building's Reflection (Quiet) Room. Their display will be up until Nov. 3 and Alvarado said the display could be extended a few additional days.
— Compiled by USD News Center