Faculty Spotlight - Justin Grinnell
Tuesday, September 5, 2017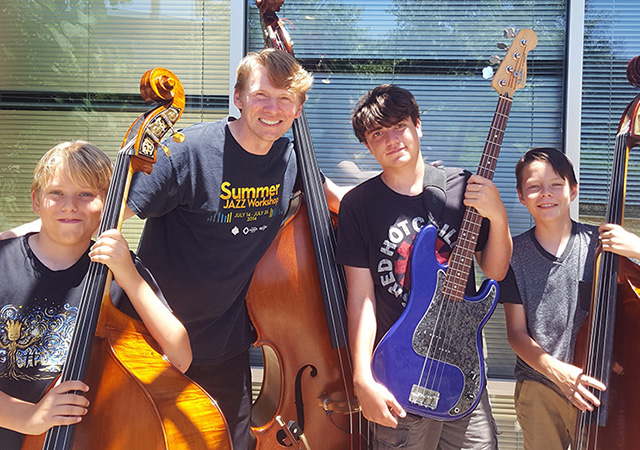 begin quote

Justin Grinnell had a busy Summer 2017 filled with teaching, performing, recording, and spending time with his family.
Justin served on the faculty for the San Diego Bass Fest in June and the Jazz 88.3/House of Blues Summer Jazz Workshop in July. The annual SD Bass Fest is a four-day gathering at San Diego State University for acoustic bassists of all ages. The Summer Jazz Workshop is a two week jazz camp for middle and high school musicians at Francis Parker School. Justin has been a faculty member since the annual workshop's inception in 2011.
Throughout the summer, Justin performed frequently in San Diego with local jazz heavyweights - Bob Boss, Duncan Moore, Jim Plank, Peter Sprague, Tripp Sprague - and all over California with the Danny Green Trio. The Danny Green Trio had two short tours to the Bay Area in May and August that included a performance at the San Jose Jazz Summer Fest. In July, the trio spent two days at Tritone Recording in Los Angeles recording their fifth album which will feature original compositions by Danny Green for the trio augmented by string quartet. In addition to recording a new album with the Danny Green Trio, Justin also provided basslines for "Africa Rocks," the San Diego Zoo's Summer 2017 theme music.
Of course, Justin also took advantage of the long summer days to spend quality time with his wife and two young sons, now five and eight years old.