Meet Olivia Gonzalez, Selected as USD Student President for a Day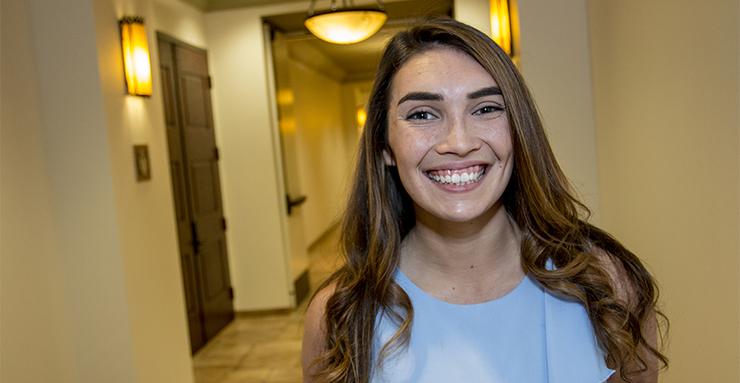 On Tuesday, May 9, University of San Diego President James T. Harris will temporarily surrender leadership of the university to USD senior Olivia Gonzalez '17. For 12 hours, President-elect Gonzalez will serve as USD's Student President for A Day.
A graduate of Scotts Valley High School, the Northern California native, will receive her bachelor of arts degree in Communications Studies on May 28. A very active Torero, Gonzalez is captain of the USD women's cross-country and track teams, president of the Student-Athlete Advisory Committee, a Ronald E. McNair Scholar, a a member of USD's Honors Program and the Athletics representative on Associated Students. She is also a member of Lambda Pi Eta Communication Studies Honor Society, and a member of the Fellowship of Christian Athletes. She was recently elected to USD's chapter of Phi Beta Kappa.
Upon graduating from USD, President-elect Gonzalez will continue her studies at the University of Southern California where this August she will begin a five-year Ph.D. program at USC's Annenberg School for Communication and Journalism. Someday, she plans to become a university professor and study the media's effects on adolescent development and minority audiences. Gonzalez credits Communication Studies Professor Susannah Stern for the enormous impact she's had on her research as an advisor.
As 2017 President for A Day, Gonzalez's busy schedule will include myriad meetings and events. Her day will begin promptly at 8:30 a.m. when she meets with the President's staff. Immediately following, she will be escorted to City Hall by Director of Community and Government Relations Tom Cleary, for a presentation before the City Council. Upon returning to campus, she will meet with USD vice presidents Terry Kalfayan, Tim O'Malley, Ky Snyder, and Carmen Vazquez. She will also meet with Minh-Ha Hoang, USD's director of admissions.
Highlighting the day will be hosting the Fireside Chat from 1:30-2:30 p.m. in front of the Torero Store, a meeting with student leaders, and a meeting with USD administrators to discuss food insecurity on campus and in the San Diego community.
In his role as student, President Harris will begin the day by joining the cross-country team for their 6 a.m. warm-up, and eight to 10-mile run. He will also attend Olivia's classes and student meetings. He will not take any of Olivia's tests!
Chosen from a pool of very qualified applicants, Gonzalez was one of five finalists invited to give a 5-8-minute presentation to a panel of seven USD faculty, staff and administrators. Throughout the day, Student President Gonzalez will tweet from the main university account, @uofsandiego.