A Week of Discovery, Appreciation for USD Research Awaits
Wednesday, April 12, 2017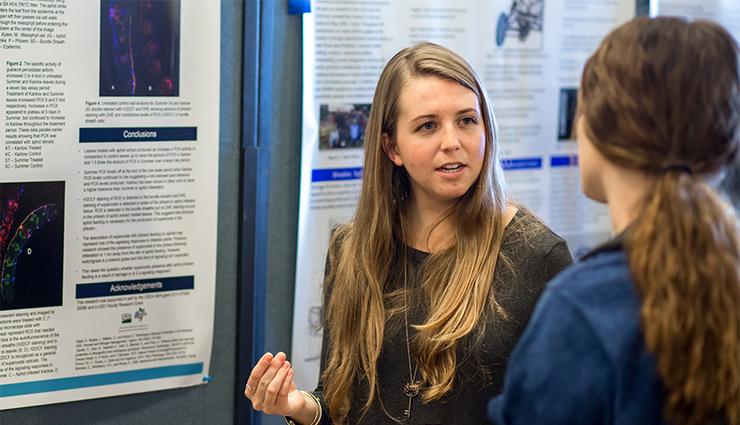 University of San Diego Assistant Professor of Biology Adam Haberman was giving a tour of his Shiley Center for Science and Technology lab and a few of his students had just given a research demonstration when he asked a prospective student, who was on the tour with her mother, a question.
"What are you interested in studying at USD?"
When the young woman replied science and art, Haberman smiled. Her answer brought to his mind a great former student who had done research in his lab and was a double major in biology and art.
"Her art training gave her amazing manual dexterity and she did really well in the lab," he recalled. "We dissected fruit fly eyes under a microscope and you do it with two pairs of forceps. It takes a lot of practice, but she got it on the very first day. She was so precise and had really good skills."
Haberman then informed the prospective student that there were graduate school programs and career possibilities such as medical illustration. Both she and her mom were visibly excited to hear about these possibilities.
That tour, that exchange with a faculty member and the knowledge the prospective student gained by hearing about a potential career path happened because she attended Research Week at USD last spring.
"The student was amazed she could speak personally to a faculty member and to students who were conducting research. She was grateful when Professor Haberman discussed how she could be both a biology and art major at USD," said Traci Merrill, director of USD's Office of Sponsored Programs. "The student and her mom left USD that day feeling that this was a campus for her. The community welcomed her, responded to her needs and she connected. This experience is what Research Week is all about."
Research Week at USD 2017 is April 18-21
The third annual Research Week at USD takes place April 18-21.
"Research Week is an opportunity to showcase the great works at USD, hands-on research experiences that students have and accessibility to faculty," said Merrill, whose office is the lead organizer for Research Week. Working with campus support from Foundation Relations, Office of Undergraduate Research, Office of the Provost and many others, the university will have another terrific week of programming that is open to everyone to see, celebrate and participate.
For the first time ever, USD's 27th annual Creative Collaborations Undergraduate Research Conference will be two days, April 18 and 20, from 12 to 2 p.m. in the Hahn University Center Forums. This Torero tradition, under the direction of the Office of Undergraduate Research, enables students to do poster presentations of research they've done in tandem with a faculty member. Engineering design projects, art exhibits and more will be featured.
Also on Tuesday and Thursday in the UC Foyer from 12-2 p.m. is a chance to learn more about three different USD programs: On Tuesday, learn about collaborative community service projects from Impact Linda Vista, an initiative led by the Changemaker Hub and the Mulvaney Center for Community, Awareness and Social Action. Thursday, all are invited to learn about the USD Military and Veterans Program and the support it has for USD's military-connected student population.
Two evening events Tuesday are a Research Week Kickoff Wine and Cheese reception from 4-5:30 p.m. in the Joan B. Kroc Institute for Peace and Justice's Garden of the Sea. This event, restricted to USD faculty, staff and administrators, honors all faculty and staff who've submitted grant proposals over the past year.
An exclusive prospective graduate student event, a "Meet the Professors" Graduate Business School Open House, is from 5:30-7:30 p.m. in KIPJ's conference rooms A, B and C. RSVP attendees can meet professors and admissions staff and can be in a personalized roundtable Q&A about specific programs of interest. A special presentation by Associate Professor of Economics Alan Gin opens the event.
Wednesday's schedule is a busy one. It starts with tours of the newly renovated behavioral neuroscience laboratories in Serra Hall 106 from 9:45 to 11 a.m., followed by a Shiley-Marcos School of Engineering Open House from 10 a.m. to noon in Loma Hall's Cymer Ideation Space. Research posters will be on display from engineering and cyber security programs. A fun Mathigami event with USD students and community members creating an origami display will be in Maher Hall's Salomon Lecture Hall from 11 a.m. to noon.
Multiple events will take place at noon on Wednesday: School of Business will have a student-faculty dialogue about research opportunities and experiential education activities in Olin Hall 341 until 1:30 p.m.; the Humanities Center will have two events, both open from noon to 7 p.m. The opening reception for Traffic 2017, a student-led exhibit of student work produced at USD. There will also be a showcase of Digital Humanities student projects in the Digital Humanities Studio area.
Lab tours of Shiley Center for Science and Technology will be given between 1 and 3 p.m.
Thursday highlights, aside from Creative Collaborations' second day, include a Kroc School of Peace Studies Open House from 2:30-4 p.m. in the KIPJ Rotunda about research about human rights, social movements and war, faculty books and more; A Justice in Mexico presentation will be given from 9:30 to 10:30 a.m. in KIPJ 253. This research and public policy program's director, USD Professor Dr. David Shirk, and program coordinator, Octavio Rodriguez, will discuss their latest report, "Drug Violence in Mexico: Data and Analysis through 2016."
There's also a mixer from 2-3 p.m. in the UC Forums on Thursday to recognize outstanding undergraduate research mentors at USD.
Friday is a great time to view one of the many University Galleries art exhibits across campus. The Robert and Karen Hoehn Family Galleries in Founders Hall have the British Modern Prints from the British Museum: From the Great War to the Grosvenor School; There's a memorial exhibition of photography by late USD Professor Duncan McCosker, in the KIPJ Fine Art Galleries; and Traffic 2017, the student-led exhibit is in the Humanities Center's exhibition space. All three of these art exhibits are open from 12-5 p.m. on Friday.
Passionate about Research's Spotlight Event
There's plenty to see, do and absorb during the annual Research Week at USD. Haberman is one of many on campus who are fans of this research spotlight.
"I love the idea of Research Week. We do research in our labs, we go off in the field somewhere or out in the community to do it," said Haberman, who has three students presenting research posters at Creative Collaborations, is connected to an NSF summer research grant program and was connected to USD's recent Beckman Scholars renewal. "I think it's important to stop and talk to everyone about what's going on, to see if students want to get involved, provide them a chance to see what their friends and what my faculty colleagues are doing and share what we're passionate about."
— Ryan T. Blystone