Alumni Spotlight: Danny Wiborg
Monday, February 13, 2017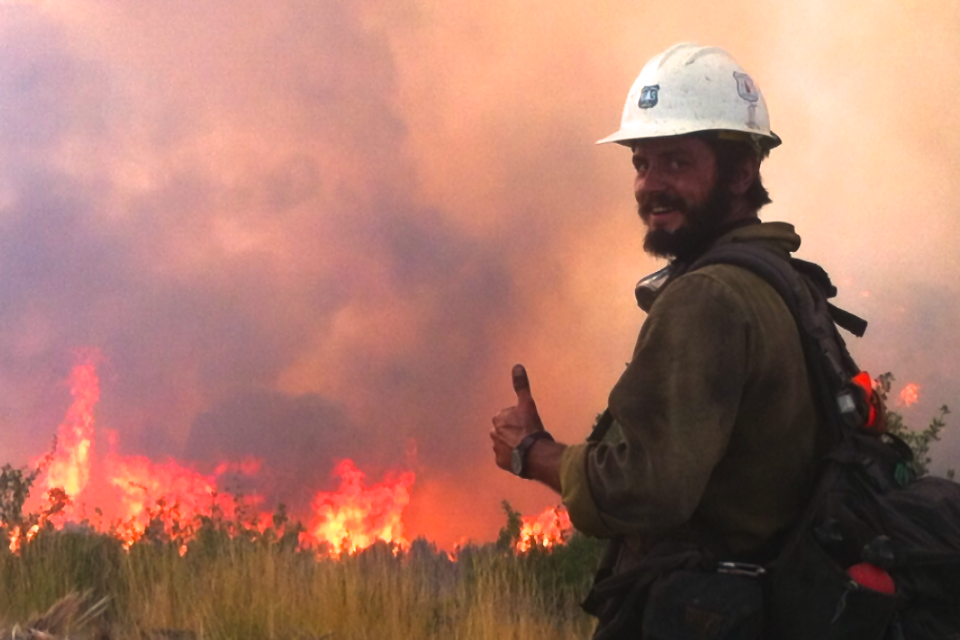 By Professor Molly McClain
After graduating in 2008, history majors Danny Wiborg and Ryan Lee renovated an old school bus and headed to Mexico. The bus broke down near Acapulco but Danny and Ryan kept going, traveling through Central and South America. Danny now works for the U.S. Forest Service as a Smokejumper in Tacoma, Washington. We asked him to tell us about his experiences.
Q&A Danny Wiborg
Q: You backpacked throughout Latin America. What were some of your favorite places and/or experiences?
A: Throughout my travels, I've met amazing people, from desperately poor locals to wealthy travelers. I've shared laughs with folks from all over the world and tried to learn something from every one of them. My favorite places have always seemed to be somewhere I didn't plan on going. For me, travel is not about looking in guide books and making an itinerary. I find it more fun and adventurous to just choose a starting point and talk with locals and other travelers once I'm there. My best stories and greatest learning experiences all come from circumstances that were not planned… some people might even say things went "wrong." Getting detained by Mexican Immigrations, mugged in Buenos Aires, lost in Patagonia, or having the bus break down were all things I didn't plan on, and perhaps would even have tried to avoid. Accepting the challenge of unplanned events is something I pride myself on, and the lessons I've learned while overcoming adversity in my travels have helped me be successful in many other areas of my life.
Q: How did you come to work for the U.S. Forest Service?
A: Before college I had one goal: to be rich. And I'm not talking about the biblical "rich in spirit" kind of rich. Luckily as I matured and got to know myself in college, those dreams of dollar signs were replaced by a need to be true to myself and the realization that I was never cut out for the suit-and-tie lifestyle. I also rediscovered my passion for the outdoors and was looking for a job that would allow me to have fun while working for the greater good in some way. It wasn't until a couple years after graduation that I began looking into firefighting. I spent my first couple of fire seasons working for the Department of Natural Resources in my home state of Washington. It was during this time that I first got exposed to Smokejumpers and I knew almost immediately that it was something I was interested in. I then spent a few seasons working on a Hotshot crew in southern Utah, followed by a year on a Heli-Rappel crew before I was finally hired for my current position as a Smokejumper working out of Central Oregon.
Q: What do you do as a Smokejumper?
A: Smokejumpers specialize in rapid personnel delivery to remote emerging wildfire incidents so, first and foremost, we are wildland firefighters. Basically, when we get dispatched to a smoke report, we suit up in under two minutes, load the plane, fly to the coordinates we are given, size up the fire, identify a jump spot (opening in the forest we can safely parachute into as close to the fire as possible), parachute in, wait for cargo (food, water, sleeping bags, tools), then get to work putting out the fire. Most fires take only a few days to fully extinguish but we are capable of staying out for weeks at a time if we are able to facilitate resupply missions via plane, helicopter, or even mule teams. "Jump fires," as we call them, are our primary function but most Smokejumpers carry a wide range of qualifications that allow them to serve almost any function on any wildfire incident and many other types of incidents. Smokejumpers have been known to work in various disaster relief efforts and have even parachuted into remote plane crash sites. While not out on assignments, we do a lot of fire preparations, gear maintenance, training, and work with forests around the country to help with projects ranging from forest management and prescribed fire operations to tree climbing work and all kinds of other stuff. For example, Smokejumpers from Idaho were instrumental in selecting and harvesting the U.S. Capitol Christmas Tree for Washington D.C. this year. We also sent some guys on a trip to help harvest seed cones for the Millennium Seed Bank. It's a very awesome job.
Q: What do you do during the winter in Tacoma, Washington?
A: My job keeps me away for much of the year so I really enjoy getting some time around the holidays to visit friends and family. I also know I won't be able to keep up the fire gig forever so I try to keep myself sharp and explore secondary career options. Another huge passion of mine is skiing. During my Hotshot years I was lucky enough to be a ski bum in Jackson Hole for some really good snow years with some excellent ski partners. Lately I've been taking some of the big mountain ski lessons I learned in Wyoming and putting them to good use on the slopes of Mt. Rainier, the Olympics, the North Cascades, and some of the amazing ski resorts up here. Did I say passion? Maybe I meant addiction.
Q: How do the skills that you learned in the History Major help you succeed at your job with the U.S. Forest Service?
A: Communication is absolutely paramount in what I do. Whether it's fire information, safety hazards, navigational concerns, supply issues, weather changes, or even things like interagency policy/legal variations, the ability to rapidly organize information, process it, and then effectively communicate it to potentially diverse audiences is a daily requirement. There are a lot of big personalities in my chosen profession, so the extensive practice I got at USD formulating arguments based on information has been highly useful. In my opinion, having an appreciation for history, and being able to understand why things are the way they are based on how past events and circumstances unfolded, can and should be beneficial to pretty much anyone doing anything. It's also very cool to be part of a historic American tradition like the Smokejumpers. I don't want to bore anyone with the shared history between the early Smokejumpers and the early Paratroopers during WWII, but Smokejumper history is fascinating and I encourage anyone who's interested to do a Google search and see what you can find. Lastly, at the end of the day, I'm just another government employee, and I definitely have to give credit to USD and the History Department for giving me an advantage with the seemingly limitless paperwork that is part of my job.
Q: Do you recommend taking an unconventional path after graduation?
A: Yes and no. I wouldn't recommend to anyone on a distinct career path to suddenly go crazy and do something wacky just because it sounds romantic and different. The challenges and uncertainty that go into an unconventional career path can be extremely stressful and I don't want to imagine where I would be now if things hadn't worked out for me. That being said, I wouldn't trade where I am now for the multi-million dollar career I hoped for myself when I first went to college or for anything else. I often tell people that the value in what I do is not in the paychecks but in the experiences I get to have and the people I get to have them with; I can say with 100% certainty that no amount of money can buy any of that. My only advice to anyone who finds themselves somewhere they didn't expect to be is: embrace it, make the most of it, learn as much as you can, and just keep going. It's funny how unconventional paths go, because somehow I knew that driving to Mexico in a school bus after college was the right thing to do, but I never had a clue where it would ultimately lead and I still don't. All I know is that it has been a great journey so far and I'm looking forward to whatever might happen next.