USD Hosts Catholic Immigrant Integration Initiative Conference
Wednesday, November 23, 2016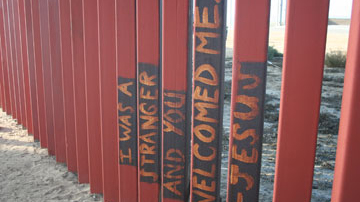 The University of San Diego will host a two-day Catholic Immigrant Integration Initiative Conference November 28-29, which will include participation by USD President James Harris, Most Rev. Robert W. McElroy, Bishop of the Diocese of San Diego, USD's University Ministry Assistant Vice President Michael Lovette-Colyer and Jeffrey Burns, USD's director of the Center for Catholic Thought and Culture.
The primary purpose of the conference is to advance the goals of the Center for Migration Studies of New York's Catholic Immigrant Integration Initiative (CIII), which seeks to study, document and support a growing network of diverse Catholic institutions that are working successfully to advance immigrant integration, empowerment and well-being.
The conference will convey the spiritual and theological vision that undergirds the Catholic Church's work with immigrants; review public policies affecting immigrant integration and academic research on the work of Church institutions with immigrant communities; lift up model integration programs and ministries; and offer optional field visits to migrant ministries and shelters in San Diego and Tijuana on November 30.
Conference topics include: Post-Election Review: Implications for Immigration Reform Consistent with Catholic Teaching; Emergency Responses to Refugees and Migrants; Migrants and Refugees in Pope Francis' Vision of Church and Society; and Church Efforts to Welcome, Serve, Empower and Integrate Immigrants. The conference will also examine the recent emergency flows of migrants from Haiti and the response of faith communities.
In addition to President Harris, Bishop McElroy, Lovette-Colyer and Burns, speakers will include Loyola Marymount University Professor Alan Figueroa Deck, a distinguished scholar in Latino Studies and Pastoral Theology; Dylan Corbett, executive director for the Hope Border Institute; and Robert Moser, deputy director of Catholic Charities of San Diego.
The conference will be held within the Joan B. Kroc Institute for Peace and Justice from 12:30 to 6 p.m. on Nov. 28 and 7:30 a.m. to 5 p.m. on Nov. 29. This conference is sponsored by Catholic Charities of San Diego, the Center for Migration Studies of New York, the Diocese of San Diego and USD. Registration is $75 and discounts and waivers are available for USD faculty, staff and students. Register for the conference.