USD Community Gatherings for Post-Election Discussion
Tuesday, November 15, 2016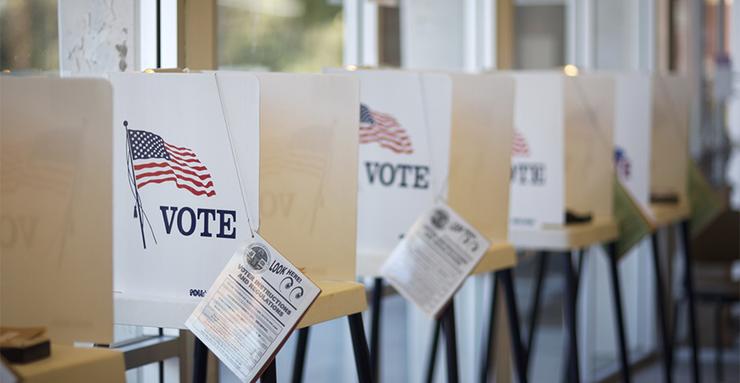 Registering to vote and casting a ballot in an election and choose who you think best supports your values and beliefs are cherished privileges for all people. This is how we, as a democratic society, operate and elect our government officials at the local, regional and national level.
So, following last Tuesday's election in which a new president, new Congressmen and women, local representatives and a number of ballot measures were put before voters to have their say, this week, the University of San Diego is providing opportunities for the campus community to reflect on the 2016 election results, what they mean and how they'll shape what's ahead.
If you interested in being part of the dialogue, whether by listening or voicing your opinion, USD welcomes you to attend post-election discussion forums that are open to students, faculty, staff, alumni and administrators on Nov. 14, 15, 16 and 17. All forums are taking place in the new Humanities Center (Serra Hall 200). Times for the remaining forums are 2-3 p.m. on Nov. 15, 1:15 to 2:15 p.m. on Nov. 16 and 10-11 a.m. on Nov. 17.
There is a student-only panel discussion taking place today at 12:30 p.m. in Barcelona 301, which is located at the west campus office for Student Support Services.
The final USD Votes event of the election cycle is the Chambers Lecture on Wednesday, Nov. 16 in Mother Rosalie Hill Hall's Warren Auditorium. Dr. Zoltan Hajnal, a UC San Diego political science professor, will speak on the topic, "Dangerously Divided: Race and Its Consequences in 2016 and Beyond." A pre-event reception starts at 5 p.m. followed by the talk and question-and-answer session from 6-8 p.m. The event is free and open to the public.
Furthermore, USD President James T. Harris III and Andrew Blum, executive director for the Joan B. Kroc Institute for Peace and Justice, have both offered post-election reflections this past week:
President Harris: Message to Campus Community After the Election