Election Night: USD Students Examine, React to Results
Wednesday, November 9, 2016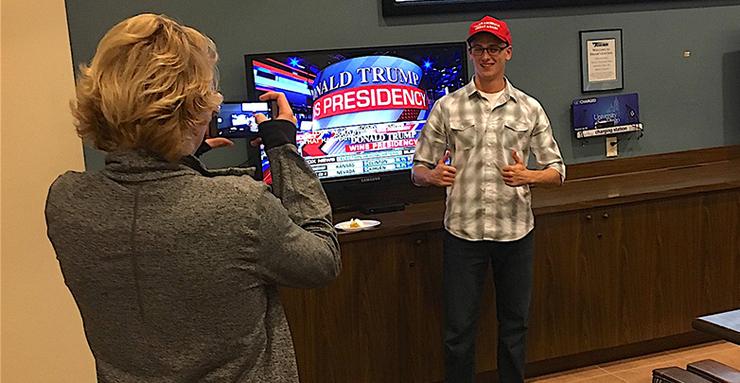 Will Hays arrived at the Hahn University Center Tuesday afternoon with a laptop and a mission.
Hays, a student in Political Science Professor Casey Dominguez's class, The Presidency (PS 310), and his classmates spent USD's Election Night Watch Party seeking answers. The junior marketing major and political science minor was solely focused on voting results in Florida. More specifically, he was examining a handful of counties — Duval, Broward, Palm Beach and Hillsborough — to see which presidential candidate they were voting for and if it could answer his big question: Can Hillary Clinton win Florida or will Donald Trump prevail?
While most sat and watched FOX and CNN's election coverage on big projection screens, did homework or socialized and ate free pizza, Hays and others were immersed in the voting habits for several battleground or swing states.
"I picked to follow Florida," said Hays when asked how he was tasked with his state. "I figured it would be a close one and I wanted to challenge myself a bit."
Hays, who was only four when the 2000 presidential election between George W. Bush and Al Gore was decided based on the results in Florida, turned to another historical perspective for his 2016 answer.
Clinton receiving 51.5 percent of the votes in Florida's Hillsborough County — to Donald Trump's 44.7 percent — should have been a good sign for the Democrat's chances.
"Hillsborough County has been on the winning side of every election since 1960," Hays said. "Whichever side wins, they win the state."
Clinton's supporters did their part in Hillsborough. She lost Duval, but won Broward and Palm Beach. Nevertheless, the Hillsborough prediction streak was snapped as Florida went to Trump, along with 29 Electoral College votes and 49 percent of the overall state vote. Clinton had 48 percent and lost by about 120,000 votes.
Student Support for Trump
A large group of students moved from the UC Forums to USD's Frank's Lounge to see the final election results late Tuesday and, ultimately, they saw Donald Trump win. While there were some vocal Trump supporters present and others just curious to see the end result, when Trump appeared for his celebratory acceptance speech just before 3 a.m. live in New York, it likely put a smile on the face of two USD students, Hunter Campbell and Ashleigh Clock.
Both students had left by the time the just before midnight result was official, but earlier, sitting at separate tables in the UC Forums, both said Trump was their choice.
Clock attributed part of her decision to back Trump due to her parents' views. She saw how hard her father works to be successful, only to struggle due to high taxes as a result of his success.
She admitted she was prepared for a "Clinton landslide" victory on Tuesday. Wearing a t-shirt with Trump's picture and the words "Trump" and "I'm With You" and his slogan, "Make America Great Again," Clock said it was fine that Trump was running against a female presidential candidate. "But," she continued, "I just couldn't see her being our president. I'd rather wait for another woman; someone I'd believe could better represent women as president."
Campbell, a junior real estate major, liked Trump since he entered the race. So, too, did his 93-year-old grandmother, he added. Campbell called Trump "an underdog," said he liked it when he said he wouldn't take a salary as president and expressed interest in having him work to help small business owners, what he'll do on immigration and believes Trump can surround himself with people who can help him succeed.
As for Clinton, Campbell said, "I looked at Clinton's history and her record and I just didn't like it … she had too many red flags. I think Hillary has had her chance."
Voting Makes a Difference
On Nov. 4, 2008, the night Barack Obama won the election and made it historic as the United States' first African-American president, then-USD sophomore and Obama supporter, Georgina Santos, a first-time voter, summed up the mood perfectly.
"I guess the word to describe it would just be amazing," Santos said. "An election is the culmination of a lot of people's hopes and dreams for this country. Whichever way you vote when you cast your ballot, it is a hope and a dream that this will happen. A lot of people are going to be very happy and a lot of people are going to be very disappointed, but the important thing to realize is that we all move together as a country."
In 2016, first-year students Kassandra Gonzalez and Idiuso Okeke were equally passionate and interested as first-time voters. Both voted for Clinton, although Okeke was initially a Bernie Sanders supporter. Her 18th birthday in August meant she couldn't vote in California's June primary for Sanders.
Both students, in November, were on board for Clinton. In an election campaign that has been verbally and physically divisive nationally and caused worldwide weigh-ins of concern, the freshmen described the wait for a final result as "nerve-wracking," but they were confident Clinton could win.
Not only did they get more informed about the candidates, the issues and the voting process — Gonzalez voted by mail, Okeke voted in her hometown of Los Angeles — but also each saw this opportunity as something special.
"It's a privilege to vote. I remember talking about it with my AP Government high school teacher and getting the views of my parents who are Democrats," said Okeke, who added she understands the importance of voting and is passionate about it through a social justice lens.
Gonzalez looked at voting as a vehicle for personal development. "It's about becoming an adult and contributing my voice, expressing my freedom of speech. I can vote on what feels right to me; this is who I am and what I feel this country should believe."
Later, as results were favoring a Trump victory, Gonzalez, Okeke and their friends were visibly frustrated, yet they were still at the table, discussing the election and talking about the importance of voting, participating in the process and not wasting the opportunity.
"We needed every single vote," Gonzalez said. "Everyone can make a difference."
— Ryan T. Blystone