Maintaining a Resourceful Changemaker Campus
Wednesday, October 5, 2016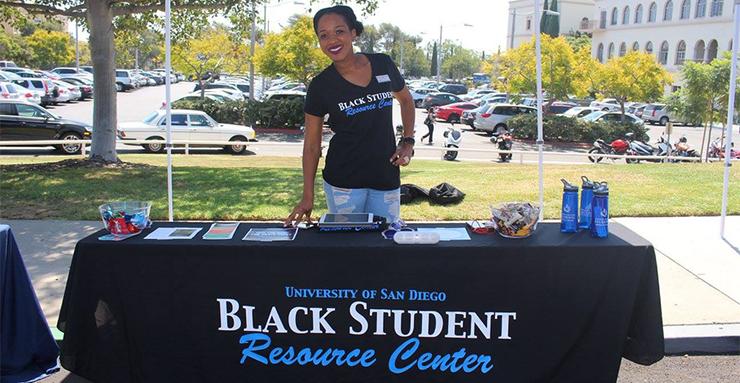 Six years ago, when the University of San Diego was designated as a Changemaker Campus by Ashoka, a global nonprofit association devoted to social entrepreneurship to provide solutions to the world's most critical problems, it was a validation.
The designation, according to then USD Changemaker Hub co-chair Chris Nayve in 2011, was a result of "all the work USD has been doing that's geared towards improving the human condition. It says USD has an environment committed to this work."
But in the years since, USD clearly understands that it won't rest on its laurels. The USD Changemaker Hub helps the entire campus see that it's equally important to continue bringing out the best in USD's students.
"Social entrepreneurship opportunities develop from new ideas, new research ... new approaches to the social issues that define our times. Change will come — has to come — from the next generation of leaders, and those leaders are coming from engaged and progressive academic institutions like USD," added Nayve, now USD's assistant provost of community engagement and director of the Karen and Tom Mulvaney Center for Community, Awareness and Social Action.
Changemaker Entities
On Tuesday afternoon, the Changemaker Hub and College of Arts and Sciences collaborated on an event in which seven USD entities — the Center for Inclusion and Diversity, Office of the Tribal Liaison, Black Student Resource Center, University Galleries, Art, Architecture + Art History, Institute for Civil Civic Engagement and the new Humanities Center — spoke about their work, their spaces on campus and how they help USD define itself as a Changemaker Campus.
"We want to walk the talk when it comes to making change on and off campus," Changemaker Hub director Mike Williams said.
Seeking Civility, Community
Carl Luna, visiting professor in the Department of Political Science and International Relations, talked about how the ICCE, a collaboration between USD and local community colleges, works to improve community dialogue. It hosts an annual conference based on restoring respect and civility in society. He noted a sharp decline that historically has been linked to political issues.
"In a very divided America, how do we get people to communicate with each other?" he said. "It's the most uncivil we've been. We don't know how to talk to each other."
The sixth annual conference, which will be April 18-19, 2017, offers resources, panel discussions and Civility Awards to honor high school seniors.
"When people hear the word civility, they think that means being polite. What we're trying to do is build community," said Luna, whose office is in the Joan B. Kroc Institute for Peace and Justice.
Black Student Resource Center
Ashley Barton, EdD, nearly three years in as the founding director of the Black Student Resource Center, has worked hard to strengthen the black student community on campus. Devoted to academic success, increased campus engagement and overall development of black students, Barton makes no excuses that the center in Room 113 of the Hahn University Center focuses its efforts through a black community lens. Everyone is welcome and encouraged to visit and participate. Themed events, such as a Welcome Black Week at the start of the semester, weeks to spotlight black women and men, and the annual Black Graduation Recognition Ceremony are a few ways she engages USD's black student population. The Black Student Union organization holds its weekly meetings in the space Mondays at 7 p.m.
Barton said she felt the BSRC has helped students develop confidence in taking on student leadership roles campus wide, such as Associated Students, as a Resident Assistant, in the Mulvaney Center and student organizations within their major. The first Black Greek Life organization is forming through the Phi Beta Sigma Fraternity Inc.-Omicron Iota Sigma Chapter. Black students are thriving as McNair Scholars and two black students have given "The Talk," an inspiring and invigorating speech to the newest Toreros during Ole Weekend orientation.
Many, though, still struggle. Barton, whose doctoral work focused on black students in education, wants the BSRC to advocate on behalf of all black students, wants to do a better job of helping to retain students who feel lost. She also wants students to know that to make change, they need to be vocal about it.
"It's been a slow and steady trek," Barton said of BSRC's impact and the development of trust. "They're feeling more comfortable about being visible. But having this space is very important."
Making Change Through Art
Alison Wiese, professor and chair for the Art, Architecture + Art History Department, and University Galleries Director and Professor Derrick Cartwright both emphasized the value that art and art expression have on a student's ability to be a Changemaker.
The art and architecture programs continue to grow and students have gone on to graduate school and into art-related careers. Both see their students' engagement with art, whether it's creating a memorable work, art that makes a social justice statement, having artwork displayed publicly on campus or students who are given the empowering task of collecting prints for a USD exhibit, as their way to "make change visually," Cartwright said.
Diversity, Inclusion
The Center for Inclusion and Diversity and the Office of the Tribal Liaison are connected, as next-door neighbors in Maher Hall's 253 and 259, respectively, and in their message, which is to be a complementary resource — not a sole entity — for the campus community's actions to foster diversity and inclusion.
Both directors, Associate Provost for Inclusion and Diversity and Communication Studies Professor Esteban del Rio in the CID, and Tribal Liaison and Professor of Practice Perse Hooper Lewis, are USD alumni. They care about USD being a welcoming place for all prospective students, especially underserved populations. To do it, though, takes more than themselves.
It needs to be an "institutional transformation," del Rio stated, not a one-person, one-center solution to the problem. Being a true diverse and inclusive campus "needs to be at the center of what you do."
Lewis, who has taught sociology and Ethnic Studies courses, said San Diego County is home to 18 different reservations. She supports USD's current 190 Native American students, engages with tribes locally and nationally to build relationships, and hosts on-campus visits for students and tribal communities. Connecting the institution and USD community to learn about Indigenous past, present and future includes a reminder that all of USD's campus rests on native Kumeyaay land.
Humanities Center
The Humanities Center, opening Oct. 13 in Room 200 of Serra Hall, is USD's newest Changemaker Campus resource.
The center first took shape in 2014 when Noelle Norton, dean of the College of Arts and Sciences wanted to bring humanities and fine arts programs, which collectively are the largest division in the college and larger than any other school or unit at the university, to the forefront.
She created advisory councils led by professors Brian Clack, Ron Kaufmann and Maura Giles-Watson, "to explore and strategize about the next steps we'd take to promote liberal arts and humanities at a university that was clearly motivated to support the humanities, but in an era in which people were questioning it," Norton said.
"We wanted to create a Humanities Center that placed Humanities and Fine Arts front and center for a USD education and engage this large division with the entire university community. We wanted to find ways to connect humanities to disciplines and schools across campus. We wanted a center that would share our commitment to the humanities to the greater San Diego region and have a center that showed off what we do best at USD, which is being student-centered and focused on undergraduate education, experiential learning, community service learning and undergraduate research."
Clack, Humanities Center director, said its mission is "dedicated to the exploration of the human condition and the limitless ways in which human beings understand and interact with our world."
And, naturally, it can set them on a path for changemaking.
— Ryan T. Blystone