USD Students Participate in The Washington Center's Convention Seminars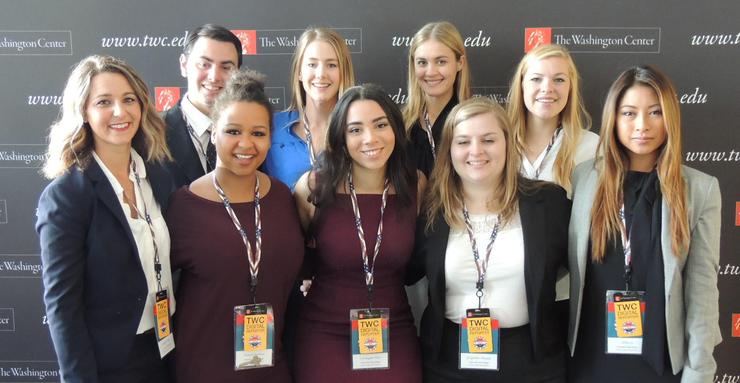 College students from across the country, including 11 from the University of San Diego, are taking advantage of an opportunity that only comes around once every four years and for some, only once in a lifetime.
As part of a two-week seminar program this month, two USD students, Glenn McDonell and Megan McDonell, have been in Cleveland and nine more Toreros are in Philadelphia to participate in The Washington Center (TWC) for Internships and Academic Seminars' Democratic and Republican National Convention Seminars.
Through academic partnerships with Temple University and Baldwin Wallace University, participants are attending guest lectures led by prominent political leaders and scholars and then volunteer on-site on the convention grounds.
"The conventions give students an insider's perspective on the political process and a front row seat to history," said TWC President Mike Smith. "This seminar is an immersion into the campaign world, giving students numerous opportunities to study the nomination process from start to finish. I can't think of a more meaningful way to take part in political discourse."
The Washington Center for Internships and Academic Seminars is an independent, nonprofit organization that serves hundreds of colleges and universities in the United States and other countries by providing selected students challenging opportunities to work and learn in Washington, D.C., for academic credit.
More than 350 students from 50-plus colleges and universities are attending the seminars from July 10-22 in Cleveland and July 17-29 in Philadelphia. Prominent speakers will lead discussion on the history of political campaigns, convention procedures and the role of the media. The second half of the program is spent at the convention, participating in fieldwork assignments and attending convention receptions and rallies.
The nine students participate in the Democratic seminars, including the upcoming convention are (pictured above): Dakotah Quayle, Nasrene Bushara, Jared Miller-Sclar, Brooke Dippo-Foderaro, Alisha Le, Carrington Novo, Helene Johnsen, Jacqueline Almeida, and Jennifer Givens.
Since 1984, nearly 200 USD students have attended the two-week academic seminars at the Democratic and Republican National Conventions. To date, this remains the only national academic program of its kind and size. The Washington Center, established in 1975, has more than 50,000 alumni who have become leaders in numerous professions and nations around the world.
— USD News Center