History Major Alexa Banker Takes Flight on a Fulbright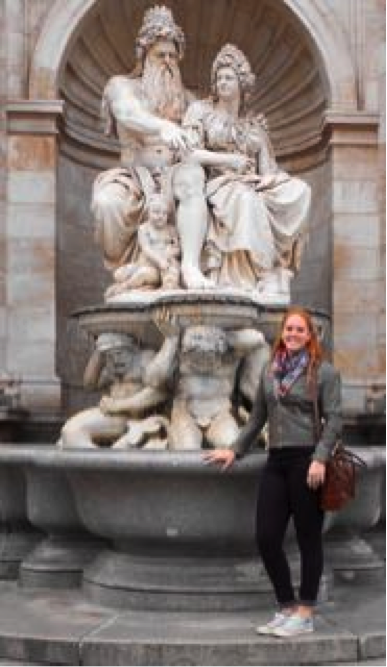 By Dr. Molly McClain
History major Alexa Banker (BA 2015) has spent the summer living and traveling in Europe. She is preparing to start her Fulbright English Teaching Assistantship at an advanced secondary school in Braunschweig, or Brunswick, an important center of trade in medieval Germany and now the second largest city in Lower Saxony. She will spend the next academic year teaching German students in the English language.
Q: Congratulations, Alexa, on your recent Fulbright grant to Germany. Can you tell us about what you will be doing?
A: I will be working with the English Department of the Gymnasium Neue Oberschule, located in Braunschweig, a small city between Hannover and Berlin. This school provides a variety of classes taught in English, everything from English Literature to Chemistry to Physical Education. I will assist in the classes taught in English. The Fulbright also provides the opportunity for me to take college courses at a nearby university. I have decided to take a psychology class (taught in German) and also German and French language classes for at least the first semester. I am a little nervous about attending a class in which the professor lectures in German!
Q: What was the application process like?
A: The application process was surprisingly painless. When I realized I wanted to apply for the Fulbright I sought out USD's Fulbright advisor, Dr. James Gump, and asked for the necessary information. I then began the online process, which was a bit tedious. The application requires three letters of reference and two essays, each only one page in length. The essays were the hardest part of the application. However, Dr. Gump creates a pre-application committee of USD professors who interview you, examine your application, and critique your essays. This help was extremely important and an invaluable resource. I still cannot thank Dr. Kathryn Statler enough. She helped me edit my essays multiple times in a time crunch.
Q: How did you come to be interested in Germany?
A: I took a class on Germany after World War II with Dr. Clara Oberle and the course sparked my interest in German history. For quite a while (and during my Fulbright application process), I was confident that I wanted to pursue a Ph.D. in German History and become a professor. I took all the classes I could about Germany and when there was an opportunity to pursue a topic of my choice, I inevitably chose a topic related to German history. I even started taking German language classes. It seemed like studying and teaching in Germany was the natural next step if I were to pursue an advanced degree in the topic. The Fulbright was a perfect solution.
Q: Did the skills that you learned in the History Major give you confidence to teach and study abroad?
A: I loved my history major and have never, for one second, regretted it. The history major taught me how to critically think and evaluate complicated situations. I learned how to research, ask relevant questions, write, and analyze text. Although I learned all of these skills in a historical context, I continue to find them extremely useful in day-to-day life. I also got to watch some of USD's best professors teach and show me how it's done. I think studying history also opens up your mind and makes you more comfortable accepting different cultures and different ways of thinking. This is key when studying and living abroad.
Q: How will you spend your free time?
A: While I was a student at USD I was also a member of the Volleyball team and staying active was a large part of my life. I've gotten away from that as I have been living in Europe since April, and so am starting boxing/kickboxing classes at a local gym. In September I will be attending Oktoberfest with a good friend of mine who lives in Munich. The German school system also has long breaks. During school holidays I will be traveling as much as humanly possible.
Q: What do you plan to do after the term of your Fulbright grant?
A: Right now I only have vague plans. One thing people consistently tell me about the Fulbright is that it changes you. I am taking that into consideration and keeping my planner open. I do know that I want to go back to school, though I don't yet know where or what for. I only graduated eight months ago and already miss taking classes!
Thank you so much for sharing your experiences with us, Alexa. Good luck with your teaching in Germany!